Homecoming Information
🎉 Special Highlight for 2023: Computing & Mathematics Bites and Bytes Luncheon & Tour 🎉
When? Friday November 10, 12:15 p.m. - 1:30 p.m.
Where? Stanley White i4 Lab, BRC 1B52B
Delight in a casual luncheon while mingling with our esteemed faculty and staff. Be one of the few to embark on an exclusive tour of our supercomputer Titan, the Stanley White i4 Digital Enterprise Lab, and the CitiLab. Dive into riveting discussions on our current research endeavors and get a glimpse of our ambitious future collaboration goals.
🔗 Ready to be part of this exciting experience?
Sign up here
department Overview
Welcome to ORU's Computing & Mathematics Department, where we are dedicated to preparing you for a successful career in a field that is constantly evolving and in high demand. From certificates and microcredentials to undergraduate and graduate degrees, we offer a range of programs that cover actuarial science, data science, computer information technology, computer science, and mathematics. Under the direction of caring, Christian scholars and teachers, you will explore these fascinating scientific fields and graduate ready to go into every person's world.
Some of the outstanding features of this program:
Our department has experienced rapid growth in recent years, and we have the resources to support your learning and development. We have modern computer labs, including a state-of-the-art high-performance computer called Titan.
The ORU Chapter of the Association for Computing Machinery (ACM) encourages networking with professionals in the computer science field and greater awareness of technological advances.
Our professors are not only knowledgeable and experienced, but they also care about your overall well-being and success. They are committed to providing individualized attention and support, and they encourage you to participate in undergraduate research projects in areas such as high-performance computing, data science, artificial intelligence, and nanotechnology.

You'll have the chance to compete in exciting competitions such as the ACM computer programming competition and the Putnam Exam. In fact, our ACM team recently placed second at the Global Hackathon, winning $2,500!
Earning a degree from our department will set you up for a rewarding and lucrative career in industry, business, or government. The Bureau of Labor Statistics predicts that the demand for graduates with computing and mathematics skills will continue to grow in the coming years, making now the perfect time to join us at ORU. As a Christian university, we are committed to helping you grow not only in your career, but also in your faith. We hope you'll consider making our department your home as you embark on your academic journey.
The Computing and Mathematics Department now has social media accounts on Twitter, Instagram, and LinkedIn. The Instagram account handle is @orucompandmath and for Twitter it is @ORUCOMPMATH. Scan the QR code below to find out what's new and be sure to follow us!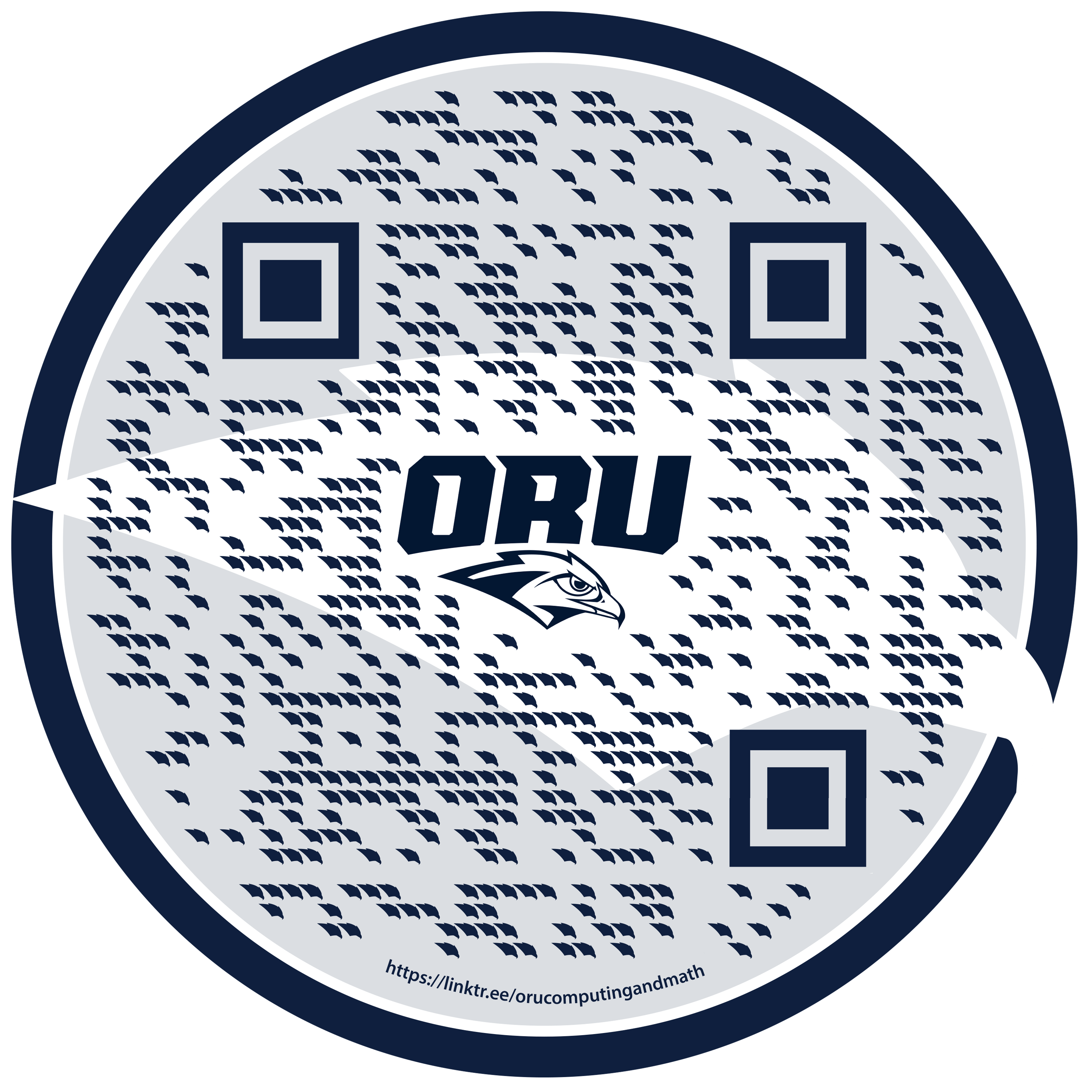 CHECK OUT ALL OF OUR MAJORS LISTED BELOW!
Department News
Dr. William Collier: Reasons to Believe - September 7, 2023
Read Dr. Collier's recent guest blog post entitled "An Antidote for Scientism—Why Science Needs God "on the Reasons to Believe website.
U.S. Representative Kevin Hern visits ORU to discuss AI - August 1, 2023
We had a productive and forward-thinking dialogue with Rep. Kevin Hern, discussing the future landscape of AI, HPC, cybersecurity, and education.
Computing and Mathematics Department Enews - Summer, 2023
Read about all of the department's recent achievements.
ORU Computing and Mathematics professors use AI to enhance teaching and the learning process - June 30, 2023
ORU scientists use transformer models to predict aqueous solubility

- May 23, 2023
Drs. Lang and Wörner have demonstrated the effectiveness of using transformer models like ChatGPT in accurately predicting physical-chemical properties.
Dr. Wheat featured in OneOklahoma Friction Free Network (OFFN) video about supercomputing in Oklahoma - April 26, 2023 OFFN is an efficient, high-bandwidth network dedicated to high-end computing and analytics research projects. It interconnects nearly two dozen universities in Oklahoma. ORU's Titan supercomputer is connected to OFFN, supporting high-speed data transfer to/from Titan in support of Oklahoma researchers' use of Titan. The OFFN long-distance links are facilitated by OneNet, the comprehensive digital communications initiative of the Oklahoma State Regents for Higher Education and Oklahoma's research and education network."
Three students score on the Putnam Exam - February 14, 2023
Three students from the Computing & Mathematics Department at Oral Roberts University have scored on the Putnam exam, which is considered to be the hardest math exam in the world. Victor Gomes scored 5 points, Caleb Alons scored 4 points, and Judah Clayton scored 1 point.
Computer Science Major Named Thunder Fellow - February 10, 2023
Computer Science Major Christian Ochei named OKC Thunder Fellow.
Computing and Mathematics Department Enews - Autumn, 2022
Read about all of the department's recent achievements.
Dr. Wheat awarded NSF Grant - Jan 13, 2023
NSF Awards Grant for Cutting-Edge Digital Genomics, Quantum Computing, and Supercomputer Studies at ORU
Dr. Osborne as Beethoven - Dec 2, 2022
A clip from ORU's Christmas program featuring our very own Dr. Osborne.
Computing and Mathematics Department Enews - Summer, 2022
Read about all of the department's recent achievements.
ORU Stanley White Scholar in Athens! - June 16, 2022
Rita Njoroge, one of our 2022-23 Stanley White Scholars, recently traveled to Greece as part of one of ORU's summer mission trips and while there she also had the opportunity to meet with some of ORU Computing & Mathematics Department's industry research collaborators - Andreas Persidis, co-founder and CEO of Biovista, and Dr. Vassilis Virvilis, their Head of Information Technologies.
ORU Computer Scientist Awarded $400,000 NSF Grant - June 7, 2022
Dr. Stephen Wheat has been awarded a $399,382 NSF Advanced Cyber-Infrastructure Grant. The grant will allow for the deployment of a GPU-based server partition called Eli, and integrate it with Titan, ORU's 7,000+ core supercomputer.
ORU Students Take the World's Hardest Math Exam - April 6, 2022
Five students score on the Putnam Exam!
Computing and Mathematics Department Enews - Winter 2022
Read about the latest happenings in the department.
9,550 Miles from Singapore to ORU: Gladys Chen's Intellectual Pursuit - January 27, 2022
ORU feature of Mathematics major Gladys Chen and her novel research conducted with Esther Lun and Dr. Lang during the summer of 2021.
Dr. Stephen Wheat recently gave the University of Science and Arts of Oklahoma access to use ORU's super computing resources—something he is doing for all institutions across the state, allowing for new opportunities for research initiatives and collaborations.
Dr. Stephen Wheat, Director of ORU's High Performance Computing Center and Professor of Computer Science discusses OFFN, Titan, and ORU's educational philosophy.
ORU's Math and Science Scholarships for Teaching (MASST) Program recently hosted a conference on the "space coast" of Florida. Among the participants were MASST Scholars who are teaching math or science in either Tulsa Public Schools, Broken Arrow Public Schools or Union Public Schools.
ORU recently opened a new Stanley White i4 Digital Enterprise Lab made possible by a $200,000 donation by the Stanley White Foundation. The foundation also gave $50,000 is scholarships to be distributed to special Stanley White scholars in the department over the next four year.
Two ORU Computing & Mathematics students have been awarded NSF-funded grants to participate in undergraduate supercomputing-enabled research projects through the Extreme Science and Engineering Discovery Environment (XSEDE) Expert Mentoring Producing Opportunities for Work, Education, and Research (EMPOWER) program.
Oral Roberts University's Department of Computing & Mathematics has introduced new master's degrees in MSCS – Computer Science and MSCS – Data Science. Available to students on campus, the Master of Science in Computer Science (MSCS) has two concentrations to choose from—Computer Science and Data Science.
ORU's Computing & Mathematics Department faculty member, Dr. Enrique Valderrama-Araya, in an international collaboration, has helped developed a novel hydrogen evolution reaction for exploring the extent of platinum nanoparticles dissolution upon the surface of carbon nanostructured electrodes.
ORU's Computing & Mathematics Department has received a $250,000 donation from the Stanley White Foundation to create both scholarships for students and for a new Stanley White i4 Digital Enterprise Lab.
More News
Advisory Council
ORU's Computing & Mathematics Advisory Council is an external group of alumni and friends of the department who provide advice and counsel on issues related to programs, accreditation, and fundraising.