ORU Computing & Mathematics Department Awarded Nearly $400K Grant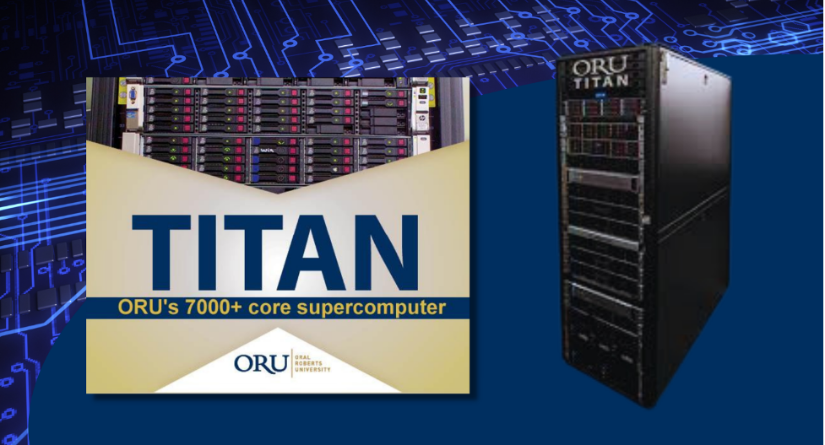 Tulsa, Okla.— The National Science Foundation (NSF) has awarded Oral Roberts University (ORU) Professor of Computer Science Dr. Stephen Wheat a $399,382 Advanced Cyber-Infrastructure Grant. The grant will allow for the deployment of a Graphics Processing Unit (GPU)-based server partition called Eli and its integration with Titan, ORU's 7,000+ core supercomputer. Eli will address the GPU and storage needs of computing for research, training, and education.
Dr. Stephen Wheat, Director of the ORU Research Computing and Analytics (ORCA) facility, is committed to advancing cutting-edge technology and expertise in the Computing & Mathematics department.
"Eli's complementary GPU-based compute capacity will enable undergraduate research opportunities for ORU students to learn and experience the use of state-of-the-art technology," said Dr. Wheat. "Our proposal to the NSF explained our science driver needs; I look forward to the results of faculty and student research efforts as they pursue those science drivers in earnest."
Eli's GPU nodes have potential to address a local and regional near void of GPU capacity for traditional High-Performance Computing (HPC) codes as well as emerging Data Science Artificial Intelligence (AI) and Meta Language codes. With ORU's Data Science degree concentrations, nearly half of new ORU research efforts are Data Science related. While serving ORCA's current users, Eli's augmentation of Titan provides new researchers additional motivation to embrace HPC/AI methods.
The ORCA management team actively promotes HPC/AI to emerging researchers and provides opportunities for substantial undergraduate research experiences. These researchers will collaborate with research colleagues from ORU, the University of Tulsa, the University of Science and Arts of Oklahoma, and East Central University of Oklahoma. This project synergizes with ORU's NSF Campus Cyberinfrastructure-funded 100 Gigabit Ethernet connectivity to the OneOklahoma Friction Free Network, a science demilitarized zone consisting of 19 different Oklahoma academic institutions.
Oral Roberts University's Computing & Mathematics Department Offers Bachelor of Science and Master of Science Degrees in Computer Science, Computer Information Technology, Data Science, Applied Science, and Mathematics. Recent graduates of ORU have a 100% success rate of finding employment. Grads in the computing and mathematics industry are currently employed as software engineers, program analysts, database engineers, and data science experts.
ABOUT ORAL ROBERTS UNIVERSITY
ORU is a Christian, Spirit-empowered, interdenominational university in Tulsa, Oklahoma, with over a decade of consecutive enrollment growth. Regionally accredited by the Higher Learning Commission, ORU offers over 150 majors, minors, concentrations, and pre-professional programs at the bachelor's level, ranging from business and engineering to nursing, ministry, and more. Under the leadership of President Dr. William Wilson, ORU is preparing students from all 50 states and 142 nations to be whole leaders for the whole world.
The Wall Street Journal ranked ORU as the #4 university in the nation for student engagement. This ranking is based upon faculty interactions, collaborative learning, critical thinking, real-world applications of student learning, the extent to which classes challenge students, and whether students would recommend a university to others. Niche ranked ORU as one of the top 25 most diverse colleges in America.
ORU is ranked by U.S. News & World Report as
• #1 in Undergraduate Teaching
• #2 in Most International Students
• #3 in Best Value
• #6 in Best College for Veterans
• #7 in Best Regional Colleges in the West
For more information, visit www.oru.edu.