How it came about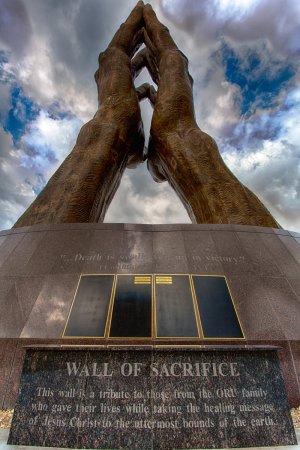 In 2012, six members of the Oral Roberts University community were involved in "taking the healing message of Jesus Christ to the uttermost bounds of the earth" when they unexpectedly passed from this life to the next.
On their way to a Teen Mania Ministries Acquire the Fire rally where they would share the gospel with young people, Garrett Coble, Austin Anderson, Stephen Luth, and Luke Sheets were involved in a plane crash that took their lives. Jaman Iseminger, a senior pastor, was shot and killed at his church while preparing for a service project. Alexis Brownlee, about to begin her senior year at ORU, died while on a missions trip to Romania.
To honor Garrett (associate alumnus and former professor), 2012 graduates Austin, Luke, and Stephen, 2005 graduate Jaman, and Alexis, ORU created the Wall of Sacrifice.
In February of 2015, the names of three other alumni were added to the wall: Dr. Myles Munroe '78, his wife, Ruth (attended 1979-80), and Dr. Richard Pinder '78. Myles was the founder of Bahamas Faith Ministries International; Ruth was co-senior pastor. Richard was the ministry's senior vice president. The three were among nine passengers who were killed in a plane crash in 2014 on the way to Myles' Global Leadership Forum.

John Allen Chau, a 2014 graduate, was reportedly killed by members of a remote tribe while bringing the gospel to the people of North Sentinel Island. His name was added to the Wall of Sacrifice in March of 2019.
ORU alumna Dr. Beverly Schmidgall traveled to Chernobyl within days of the 1986 nuclear disaster. There, she ministered to nearly 3,000 pregnant women who feared for their lives. Beverly's exposure to radiation caused her to suffer for years from cancers that ultimately led to her death at age 51. Her name was added to the Wall of Sacrifice in March of 2021.
Your role
Looking back, there are no doubt other former members of the ORU community who deserve to have their names on the Wall of Sacrifice.
The Wall of Sacrifice will honor members of the ORU community -- alumni, students, and current and former trustees, faculty, and staff from 1965 to the present -- who, in the act of taking the healing message of Jesus Christ to the world, suffered a sudden, unexpected, and untimely death.
If you would like to recommend someone for inclusion on the Wall of Sacrifice, please follow this link to the Recommendation Form.
The process
ORU will review each recommendation. Once it has been determined that the person being recommended fits the criteria, the one who made the recommendation will be notified and the name will be placed on the Wall of Sacrifice.