the latest news on campus improvements, new buildings, and more
Media Arts Center (MAC) Groundbreaking - Nov. 17, 2021
ORU's theater, dance, music, and digital media departments will be right at home in the MAC. This facility will feature a proscenium-style theatre (complete with orchestra pit), a black box theatre, a music performance hall, music practice rooms, dance studios, a piano lab, a sound stage, editing pods, dressing/craft/costume rooms, and a digital set that employs high-res, 3-D video backdrops. The MAC is projected to open in the summer of 2024.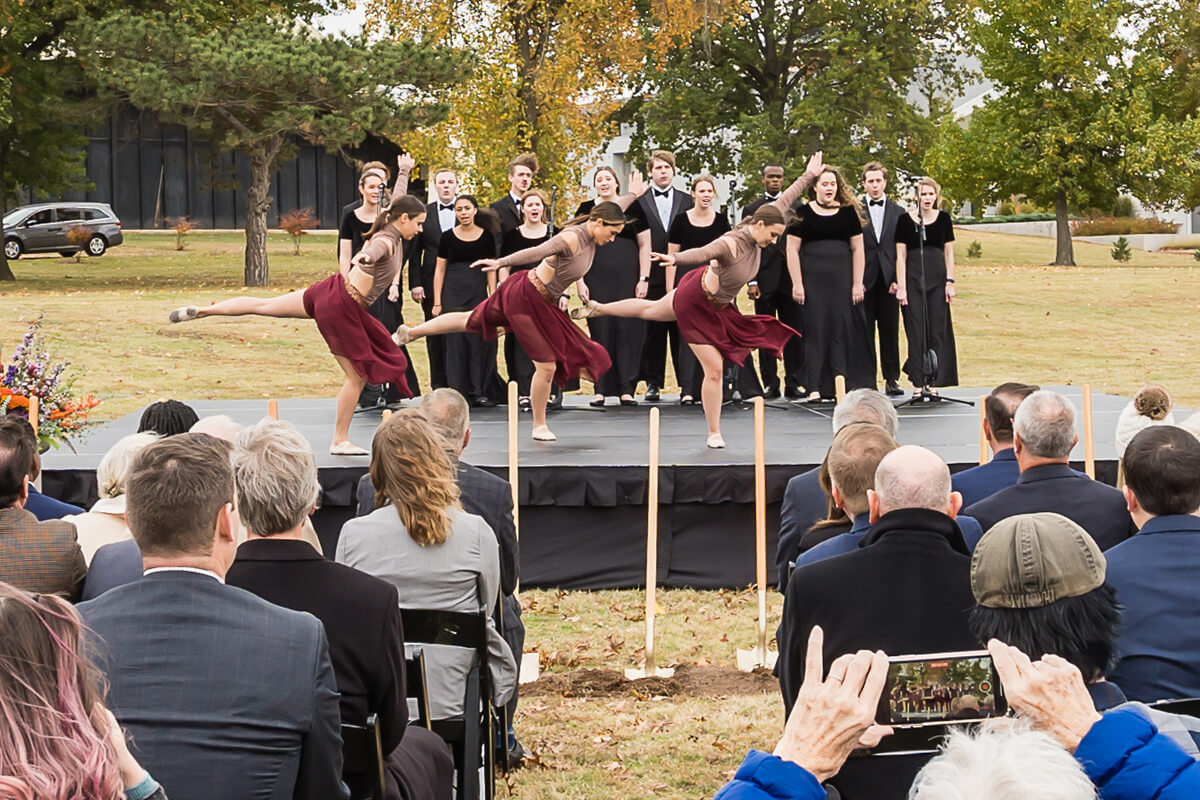 ---
Mike Carter Athletic Center Groundbreaking - Nov. 12, 2021
This building, located on the south side of Mabee Center, will house a 10,000-square-foot Sport Performance Center, a new ELI Academic Center (with open study space and individual and group study rooms), two regulation basketball practice courts, a sport medicine facility, and administrative and coaches' offices. The building is named for Athletic Director Emeritus Mike Carter. It is scheduled to open in February 2023.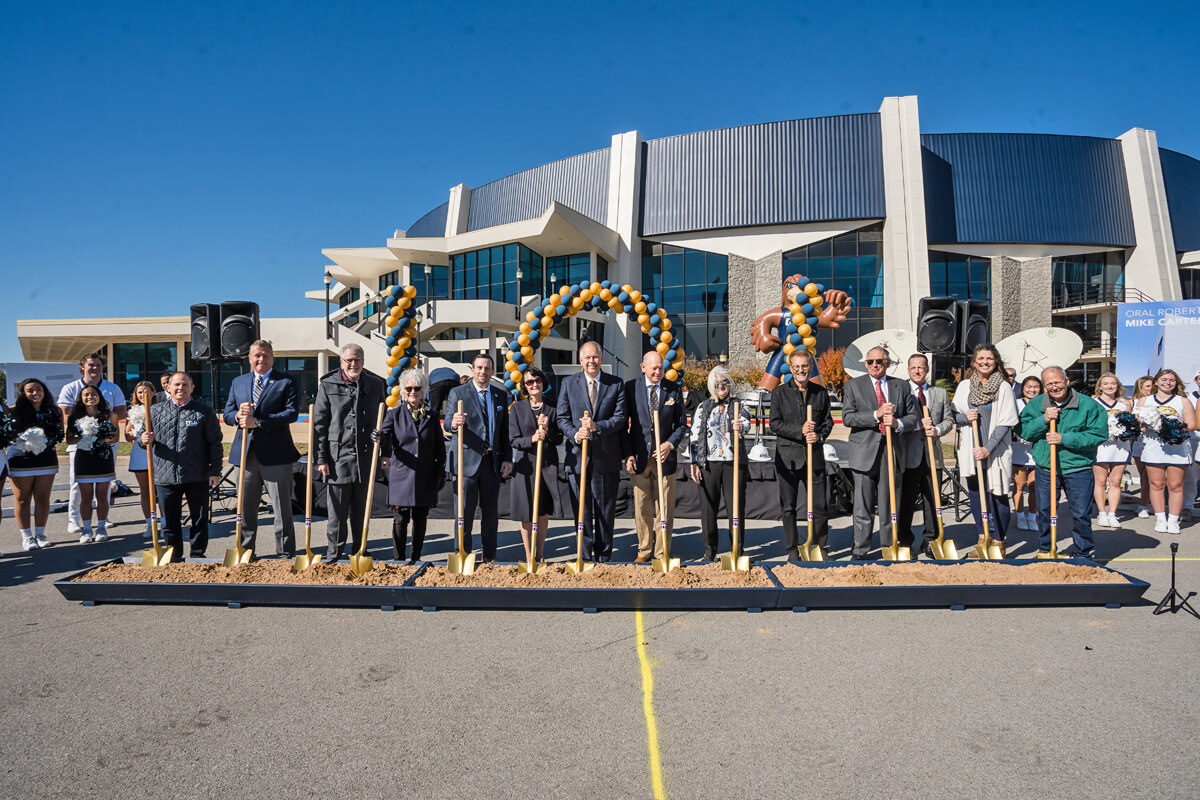 ---
J. D. McKean Library Groundbreaking - Oct. 22, 2021
The three-story, technologically advanced library will serve as an intellectual hub for student research and academics. Spacious and light-filled, this thoroughly modern structure will offer a mix of traditional and digital sources of information, study rooms, conference and workrooms, and tech tools. It will also house the renowned Holy Spirit Research Center. The building is scheduled for completion in the summer of 2023.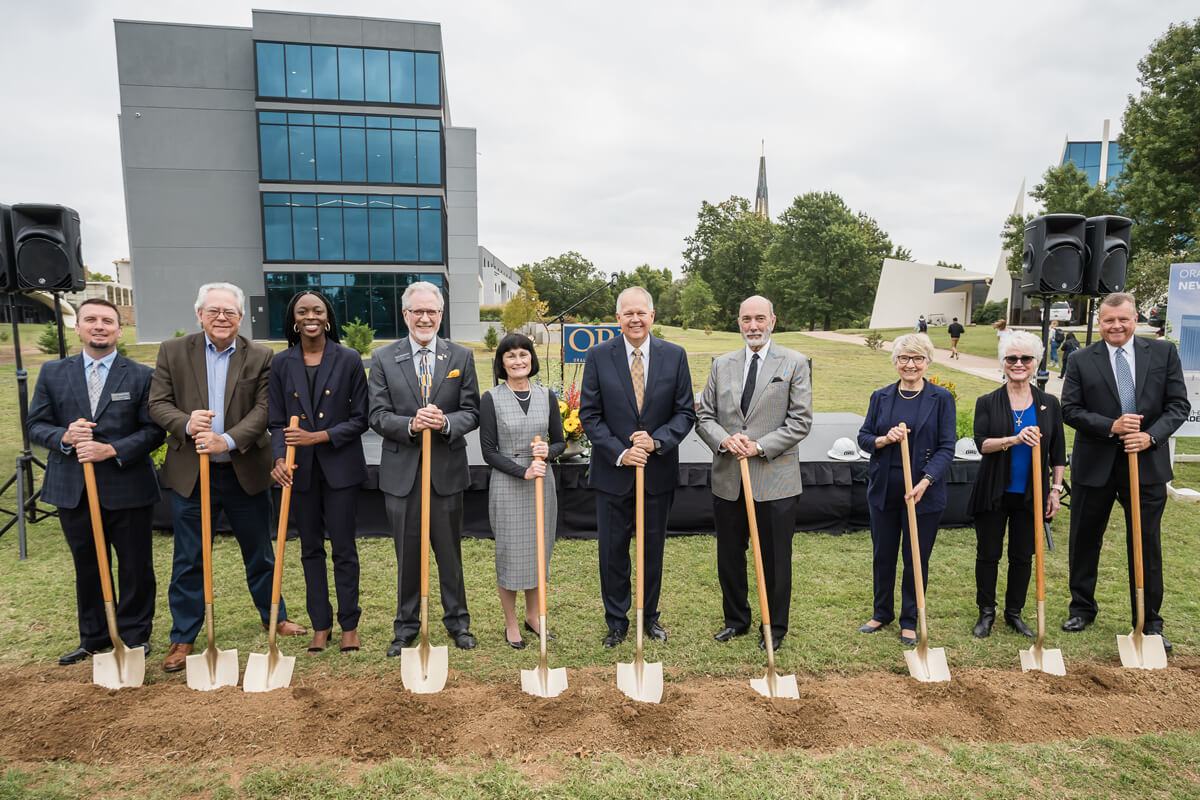 ---
i4 Lab (Imagine, Innovate, Incubate, Impact)
A ribbon-cutting ceremony for the Stanley White Foundation i4 Digital Enterprise Lab took place on August 19, 2021. Dr. Andrew Lang, Senior Professor of Mathematics and Chair of ORU's Computing & Mathematics Department, said that this lab will offer an environment where "students can collaborate with faculty--and each other--in research and development activities to produce new technologies and other entrepreneurial opportunities."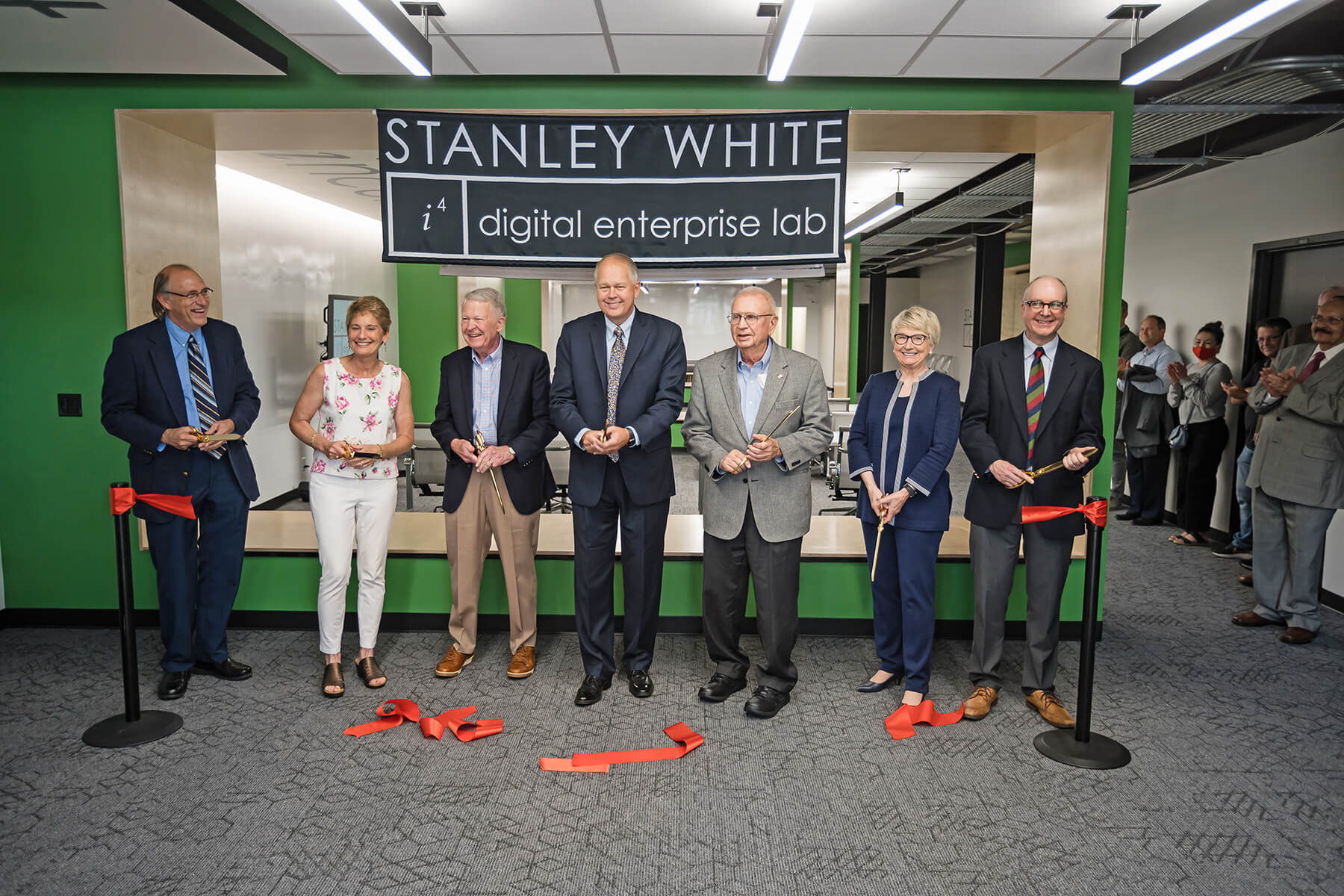 ---
Computing Lab
The new Stanley White High Performance Computing Lab opened in August 2020. It is a creative space where Computing and Mathematics students can brainstorm and put their ideas to the test by using ORU's supercomputer, known as Titan.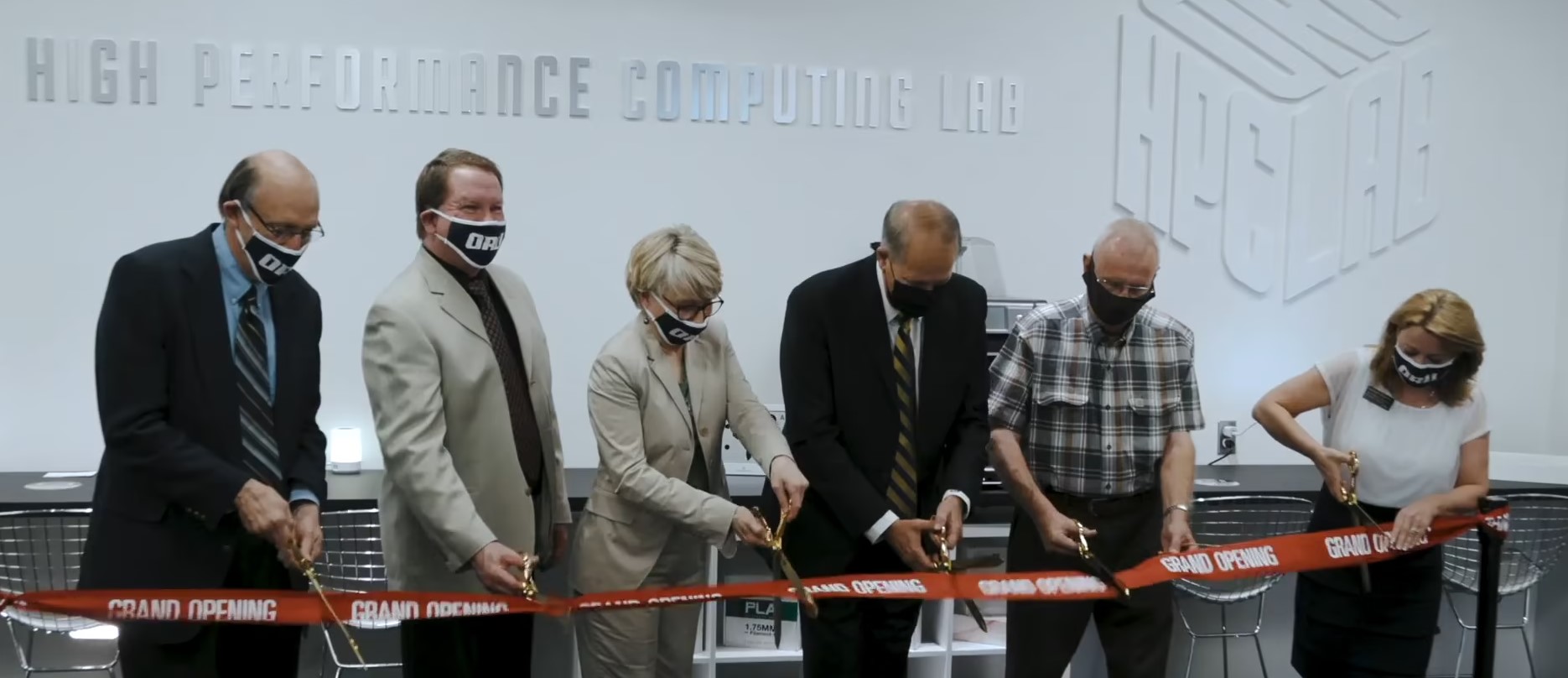 ---
Welcome Center
As part of the Whole Leaders for the Whole World campaign, ORU has built a new Welcome Center. The ribbon-cutting ceremony took place on September 14, 2022.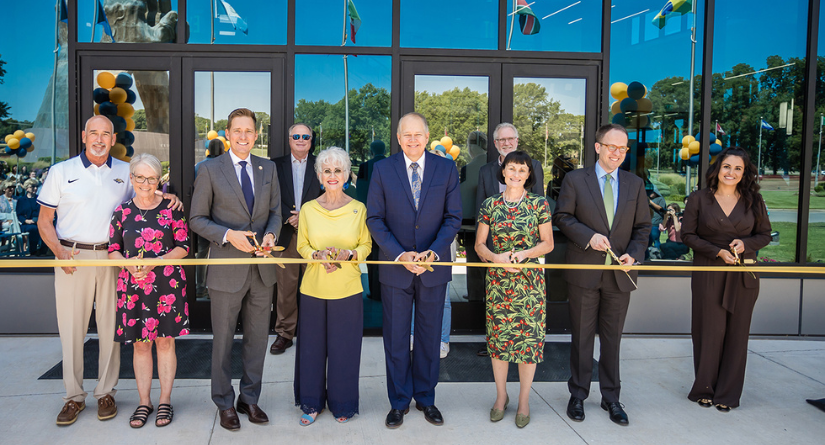 Pictured (left to right): Lead Donors Jim and Donna Stuck, Lt. Governor Matt Pinnell, Trustee Gordon Helm, Trustee Dr. LaDonna Osborn, ORU President Dr. William Wilson, First Lady Lisa Wilson, Alumni Board Chair Cory Nickerson, Tulsa Mayor G.T. Bynum, and Assistant VP of Enrollment Management (Residential) Alison Vujnovic.
---
Fenimore & Fisher College of Business Ribbon-Cutting Ceremony – September 23, 2022
The Fenimore & Fisher College of Business bears the names of Rick Fenimore and Terry Fisher, two of the college's alumni whose generous gifts to their alma mater prompted the ORU Board of Trustees to honor them with this distinction. President Dr. William M. Wilson, business dean Dr. Julie Huntley, trustees, faculty, staff, students, alumni, and Oklahoma Rep. Kevin Hern joined Rick and Shelley Fenimore and Terry and Julie Fisher at the ceremony. Located on the third floor of the Graduate Center, the high-tech college features a Capital Markets Trading Floor. Classrooms, labs, and faculty offices have also been renovated.