University Assessment System
Key Program Assessments
Key Program Assessments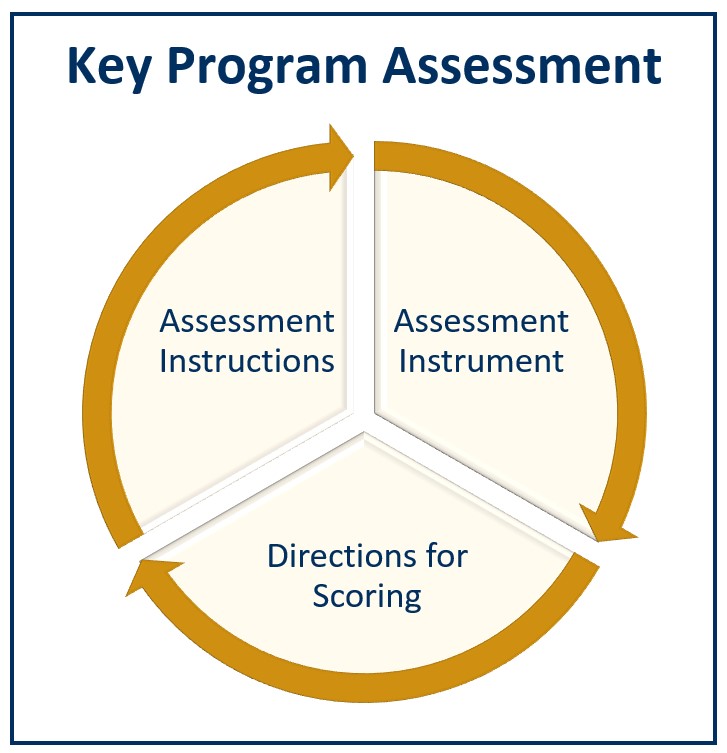 What is a Key Program Assessment?
Key program sssessments (KPA) are used by the university assessment system. They measure student's mastery of the program outcomes. Most programs use 3-8 KPAs. Key program assessments are used in general education courses that are required for most students.
Each key program assessment has:
(1) Assessment instructions | Example
(2) Directions for scoring | Example
(3) Assessment instrument | Example
Key program assessments may be externally- or internally-created measurement tools
Externally-created examples: Professional exams, proprietary instruments, surveys, observation instruments, portfolios, etc.
Internally-created examples: Senior project, papers, presentations, observations of field experience, final exams, portfolios, performances, business plans, etc.
Each program has a crosswalk displaying the alignment of key program assessments with University and professional outcomes:
EXAMPLE | Outcome & Key Program Assessment Alignment | Nursing (B.S.N.)
Click below to view examples of key program assessments:
| | | |
| --- | --- | --- |
| | | |
| College of Arts and Cultural Studies | Fenimore & Fisher College of Business | College of Education |
| | | |
| College of Health Sciences | College of Science and Engineering | College of Theology & Ministry |
Key Program Assessments
Assessment System Continuous Improvement
Recent Improvements
- Reduced the amount of key program assessments required per program
- Faculty updated assessment instruments to include the revised University outcomes
Next Step
- Update KPAs for general education courses that are required for all sutdents