University Assessment System
Evidence of Student Learning
Evidence of Student Learning
The University assessment system uses key program assessments to measure student mastery of the University, professional, and general education learning outcomes.
Reporting Schedule
Key program assessment data reports are provided using spreadsheets and bar graphs biannually:
Fall semester (December)
Full academic year (May)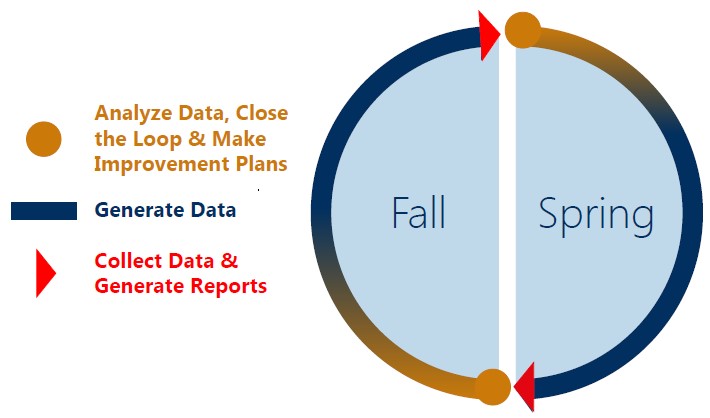 Reporting Scale
A numeric score ranging from 0.00 - 4.00 is generated using key program assessments. Students may receive a score of 4, 3, 2, 1, or 0 for each rubric criterion. Criterion scores are aggregated to create reports at different levels.
Reporting Levels
Click below to view examples of the data reports provided at various levels:
Click below to view examples of program data reports:
| | | |
| --- | --- | --- |
| | | |
| College of Arts & Cultural Studies | Fenimore & Fisher College of Business | College of Education |
| | | |
| College of Health Sciences | College of Science & Engineering | College of Theology & Ministry |
Evidence of Student Learning
Assessment System Continuous Improvement
Recent Improvements
- Longitundinal data tables provided to program faculty
Next Steps
- Explore new tools for reporting data
- Create dynamic reporting dashboards