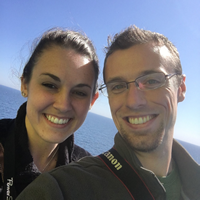 Andrew Morris is a Staff Software Engineer at FlightSafety International Simulation. He graduated summa cum laude from Oral Roberts University in 2006 with a Bachelor of Science double major in engineering (emphasis computer) and computer science.
He took up employment shortly after college at FlightSafety International Simulation. His range of experience in computer science includes web programming starting in high school, programming microcontrollers during a college internship, driving avionics interfaces for real and simulated devices, modeling and reverse engineering a variety of aircraft hardware, and working with 30+ years of technology and real-time systems in the aviation simulation and training sector. In his 12 years at FlightSafety, Andrew has worked on the simulation of multiple avionics systems, numerous aircraft types, modeling of navigational systems and radios, and helped with the development of several training enhancements such as collision detection and artificial intelligence to mimic airport traffic, tanker and receiver interactions for in-air refueling, and ballistics modeling for airborne gunner training. He has worked with regulatory agencies for the certification of several high fidelity real-time training devices and traveled internationally to support these devices and to interface with customers of many nationalities.
In 2012 he wrote a paper on high fidelity ballistics and gunner training as a part of integrated aircrew training simulators that was chosen for publication at that year's Interservice/Industry Training, Simulation and Education Conference (I/ITSEC), and also presented on the subject at the conference.
In 2016 he was chosen by the FlightSafety Director of Engineering to act as a representative for the software engineering groups, and for nearly six months worked as part of a team with a leading international innovation and transformation consultancy group to revamp the business processes at FlightSafety.