The Kitchen Table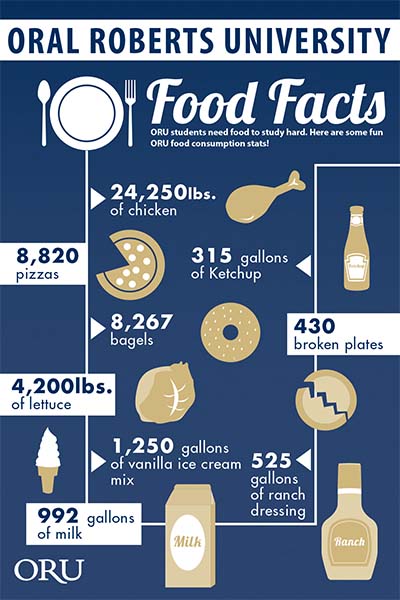 Most alums will tell you that the ORU cafeteria serves as the place where many great conversations happen, ideas are born and friendships are established. Dormitory wings and their corresponding brother/sister wings have designated spaces they can use to eat and socialize. A student committee works with the cafeteria staff to insure that students' requests and feedback are heard. Dining options within the cafeteria include everything from the traditional grill to deli-style sandwiches, fruits, vegetables, salads and a salad bar, an array of cereals, pizza and pastas, and Asian, Mexican and specialty cuisines, all served cafeteria-style with plenty of options available.
In addition to the cafeteria, you'll find these delicious dining options around campus presented by Sodexo Food Services:
Armand Hammer Alumni-Student Center
Moe's Southwest Grill, serving a variety of fresh, made-to-order southwest fare, as well as vegetarian and low-calorie options
Jazzman's Cafe and Bakery, serving specialty coffee beverages and fresh pastries, cookies and muffins, as well as sandwiches, hot-pressed paninis, fresh soups and garden salads
Graduate Center (GC) 3rd floor
The Deli, serving breakfast and lunch weekdays
Hamill Center
Chick-Fil-A, serving lunch & dinner; lower level
Freshens Eagle's Nest, serving healthy smoothies, yogurt and snacks; located adjacent to Chick-Fil-A
Learning Resource Center (LRC) 3rd floor
Freshens LRC, serving healthy smoothies
Green Cuisine, with natural and organic food options
Hava Java, serving coffee and drinks
CityPlex Towers
Mama Delucca's Pizza, serving lunch and dinner, 1st Floor
Subway, serving lunch and dinner,1st floor
Meal Plan Options - Residential Students
| | |
| --- | --- |
| Basic One | Unlimited - All access in cafeteria |
| Flex One | 17 meals/week + $200 in Sodexo bucks |
| Flex Plus | 14 meals/week + $250 in Sodexo bucks |
| Flex Gold | 10 meals/week + $350 in Sodexo bucks |
| Flex Eagle | 7 meals/week + $500 in Sodexo bucks |

Meal Plan Options - Commuter Students
Commuter Students can purchase a block of meals that can be used for themselves and their guests in the student Cafeteria. It is a non-refundable, non-transferable plan that expires at the end of the academic school year. Meals may be purchased at the Eagle Card Center on LRC3 or at Student Accounts on GC 2.5 West.
Block Meals:
| | |
| --- | --- |
| Block of 10 meals - $71.00 | |
| Block of 25 meals - $171.00 | 25 Meals + 50 Sodexo Bucks - $208.00 |
| Block of 50 meals - $310.00 | 50 Meals + 25 Sodexo Bucks - $319.00 |
Hamill Dining Hall Hours
Weekday Hours
7:00am-2:30pm (Monday-Friday, continuous dining service, closed during chapel)
5:00pm-8:00pm (Monday-Friday)
Weekend Hours (Saturday/Sunday)
10:30am-2:00pm (Early Brunch and Brunch service)
4:30pm-6:30pm (Dinner)

Stay connected through Sodexo's Twitter.
Stay connected through Sodexo's Facebook.