Learn more about who is currently serving on the Alumni Board by clicking here.
HISTORY AND PURPOSE
The Alumni Association Board held its first meeting on Feb. 5 and 6, 1982. Its ongoing purpose has been to represent the alumni of ORU: to communicate alumni concerns and ideas to the university, and to help the Office of Alumni Relations keep alumni informed of the "State of the University." The board also sees itself as an organization that encourages alumni to continue to carry out the mission of ORU, even as it finds ways to reconnect alumni with campus life so that they, in turn, can encourage current students in their walk with the Lord.
MISSION STATEMENT
The mission of the Oral Roberts University Alumni Association is to support the university and serve its alumni. We support the university by promoting interest in, securing financial commitment for, and advancing the accomplishment of the mission of ORU. We serve the alumni by providing information, programs, and activities that encourage them to fulfill their calling to "go into every person's world" with the light and healing power of God.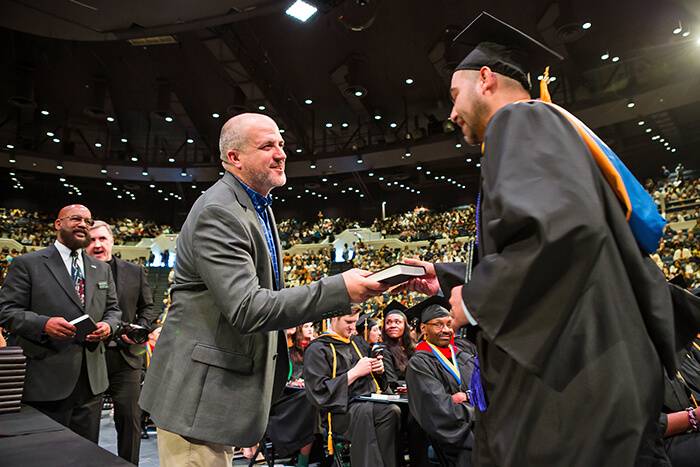 BOARD RESPONSIBILITIES
Participate in board orientation to ensure organizational knowledge.
Be knowledgeable of board responsibilities as set forth in the constitution, bylaws, standing rules, and orientation materials.
Attend biannual board meetings. (Board meeting attendance is important! Board members who miss two consecutive meetings during their term are considered to have resigned.)
Help the ORU Alumni Association achieve its mission statement. The mission statement of the Oral Roberts University Alumni Association is:
1. to promote interest in, secure financial support for, support the mission statement of, and assist in maintaining ORU as a leader among American Christian universities, and
2. to develop and sponsor programs for the service of the alumni and the advancement of the Alumni Association.
Provide leadership within the board and participate on committees as requested by the board chairman.
Make annual contributions as part of the board's goal of 100% alumni participation in the annual fundraising events; assist in raising funds for the support of ORU; identify prospective individuals among alumni or the community for the purpose of involvement and/or solicitation.
Serve as an effective liaison between the university and your constituency, the board and the university, and represent the university and its goals and programs to the alumni.
Facilitate interactive communication between yourself and your university constituency (e.g., periodic newsletters, e-mail updates, contacts, major donor visits and calls, etc.).
Serve as an advocate for ORU -- be a representative and spokesperson in the community for ORU and the Alumni Association.
Represent ORU at local college fairs as needed; send names of prospective students from your area to the Admissions Office; call prospective students in your area as requested by the Admissions staff; etc.
Assist the university and Alumni Association in identifying, cultivating, and involving alumni in areas such as student recruitment, job placement, legislative advocacy, chapter leadership, financial support, and more.
COMPOSITION AND TERM OF OFFICE
The Board of Directors consists of up to twenty-five (25) voting directors and an Executive Director, who is an ex officio member of the board and who votes only in case of a tie. Directors either represent various class segments or the alumni population at large, and usually serve three-year terms. The board meets two times a year.
RUNNING FOR OFFICE
Alumni who would like to serve on the Board of Directors should contact Alumni Relations and inquire about upcoming openings. All prospective candidates will be asked to accept the stipulations of the "Lifestyle Commitment" form (see below). It's never too early to start considering if you would like to run for office.
Alumni who would like to be considered for a position on the board, or who have been contacted and asked to run for office, must fill out an application form and review the Lifestyle Commitment (see below).
ELECTIONS
Elections are held annually to fill vacancies as they occur. All ORU graduates are eligible for nomination and election, as are associate alumni who have applied for and been granted full membership in the Alumni Association.
CONSTITUTION, BYLAWS, AND STANDING RULES
Links to the constitution, bylaws, and standing rules of the ORU Alumni Association can be found by clicking here.
COMMITTEES
The board has seven standing committees: Finance, Nominating, Alumni Awards, Alumni Events, Alumni Outreach, Alumni/Student Relations, and Alumni/Faculty Relations.
ASSEMBLY
Meetings are held twice a year: during the spring semester and during the fall semester.
ALUMNI BOARD LIFESTYLE COMMITMENT
Just as students sign the ORU Honor Code during their tenure as enrolled students on campus, we ask applicants to the ORU Alumni Association Board of Directors to affirm their adherence to the following fundamental principles:
I fully recognize that Oral Roberts University was founded to be and is committed to being a Christian ministry and that it offers a lifestyle of commitment to Jesus Christ of Nazareth as personal Savior and Lord and as an integral part of its evangelistic outreach. It is therefore my personal commitment to be a person of integrity in my attitude and respect for what Oral Roberts University is in its calling to be a Christian university.
I commit to maintain integrity and obedience to God's claims on my life, and to do my utmost to know and follow His will for my life.
I affirm my continued commitment to refrain from all illegal or immoral acts or habits, or the promotion of those acts or habits. This would include, but is not limited to, the use of illegal drugs, abuse of alcohol, and illicit sexual acts including homosexual or extramarital sexual behavior.
I commit to prayerfully and carefully execute any duties to which I am elected or assigned in the ORUAA. I understand that Oral Roberts University is a private school and that my participation in any activities of the ORU Alumni Association does not give me any vested rights in the governing of the university.