MISSION
The mission of the Anna Vaughn School of Nursing is to prepare professionally competent graduates—whole in spirit, mind, and body—who go into every person's world to address physical, psychosocial, and spiritual health of individuals, families, communities, and populations through the ministry of nursing.
PHILOSOPHY
The Theory of Nursing for the Whole Person© (TNWP) provides the philosophical foundation for professional practice. Nurses address the physical, psychosocial, and spiritual needs of individuals, families, and communities throughout the world.
ACCREDITATION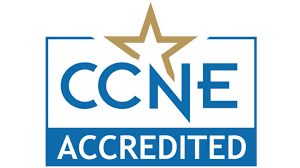 As a university, we meet the accreditation standards set by the Higher Learning Commission (HLC). The baccalaureate degree program in nursing at Oral Roberts University is accredited by the Commission on Collegiate Nursing Education (http://www.ccneaccreditation.org).
The Anna Vaughn School of Nursing is approved by the Oklahoma Board of Nursing, 2915 N Classen, Suite 524, Oklahoma City, Oklahoma, 73106, (405) 962-1821.
NCLEX-RN
The BSN program at Oral Roberts University meets the educational requirements for RN Licensure in all 50 states. Graduates are prepared to write the National Council of State Boards Examination in the state of his or her original licensure to take the exam at any approved site in the United States, American Samoa, Guam, Northern Mariana Islands, or Virgin Islands for licensure as a registered nurse.
NCLEX-RN Candidates Frequently-Asked Questions
NCLEX-RN pass rates for nursing programs in Oklahoma published annually by The Oklahoma Board of Nursing.
NURSE LICENSURE COMPACT
The Nurse Licensure Compact (NLC) enables multistate licensure for nurses, giving them the ability to practice across state lines.
Contact Information
If you would like more information on specific programs or majors, please contact:
Dr. Audrey Thompson, Associate Dean
Anna Vaughn School of Nursing
918.495.6140
athompson@oru.edu
Braden Hilton
‪Academic Administrative Coordinator
Anna Vaughn School of Nursing
918.495.6017
bhilton@oru.edu