PROGRAM OVERVIEW
Oral Roberts University's Doctor of Nursing Practice is primarily completed online, with an on-campus residency requirement most semesters. As part of the esteemed Anna Vaughn School of Nursing, this post-bachelor's program consists of a Family Nurse Practitioner tract which specifically targets BSN RNs who will have completed at least 2,000 hours of professional nursing practice prior to enrollment in year two of the program.
The Doctor of Nursing Practice is a practice-oriented degree and prepares you to translate and test research findings in clinical practice settings. Our unique mission to develop Spirit-empowered leaders will enable you to improve healthcare systems through evidence-based research. While serving in your preferred environment, the DNP program will allow you to learn current technologies and practices that enhance nursing knowledge and patient education.
WHAT ABOUT ACCREDITATION AND LICENSURE?
ACCREDITATION NOTICE
The Doctor of Nursing Practice program at Oral Roberts University is accredited by the Commission on Collegiate Nursing Education (http://www.ccneaccreditation.org).
The Commission for Collegiate Nursing Education (CCNE) is the accrediting body for the undergraduate program. ORU Online is accredited by the Higher Learning Commission (HLC) and utilizes the same world-class curriculum as traditional courses.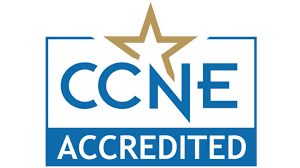 LICENSURE
Oral Roberts University is an NC-SARA (National Council for State Authorization Reciprocity Agreements) participating university. "SARA is an agreement among member states, districts and territories that establishes comparable national standards for interstate offering of postsecondary distance education" (nc-sara.org).
While we would love to admit students from all 50 states, we must abide by each state's Board of Nursing (BON) educational requirements for advanced practice nurse licensure upon graduation from a distance learning program. The following lists are provided for your guidance. We encourage each non-resident applicant to contact their BON and review your state's APRN guidelines for licensure. You can find your BON contact information here.
Colorado
Connecticut
Florida
Hawaii
Illinois
Indiana
Kansas
Maine
Massachusetts
Michigan
Mississippi
Montana
Nevada
New Jersey
New Mexico
North Carolina
Ohio
Oklahoma
Rhode Island
Texas
Vermont
Virginia
Washington, DC
West Virginia
Alabama
Alaska
Arkansas
California
Georgia
Louisiana
Maryland
Minnesota
Missouri
Nebraska
New York
Oregon
South Carolina
Tennessee
Utah
Wyoming
Arizona
Delaware
Idaho
Iowa
Kentucky
New Hampshire
North Dakota
Pennsylvania
South Dakota
Washington (state)
Wisconsin
Graduate Student Handbook DNP Degree Plan Sheet Apply Now Application Checklist
HOW LONG WILL IT TAKE ME TO GRADUATE?
This program is 70-credit hours. You could complete this degree in as little as 36 months when you enroll full-time. We consider full-time enrollment for this program as taking one 3-credit hour course over a 7-week term with 6 terms per year. DNP core courses comprise 34 credit hours; FNP core courses comprise 32.5 credit hours and the remaining 3.5 credit hours are spent in ORU distinctive courses. Students meet with their cohort every two weeks in an instructor-led webinar. Beyond course work, the DNP includes a requirement of at least 1,000 clinical hours. Our degree plan sheet highlights all required courses. Upon program completion, the graduate will be eligible to take the Family Nurse Practitioner (FNP) certification exam through either the American Nurses Credentialing Center (ANCC) or the American Association of Nurse Practitioners (AANP). To learn more about the certification exams, visit nursingworld.org or aanp.org.
What can I do wth a Doctor of Nursing Practice Degree?
Nurse Practitioner (NP)
Healthcare Manager
Healthcare Policy Advocate
Nurse Executive
Nurse Educator
ANY OTHER REASONS TO COMPLETE MY DEGREE ONLINE WITH ORU?
Graduate on time with a Success Coach who will walk with you every step of the way.
Fit classes into your schedule so you can balance work and family commitments.
Receive academic support with easy access to caring professors and helpful learning resources.
Access classes anytime and anywhere with our mobile-friendly and user-friendly online platform.
Learn from highly qualified nursing instructors with years of nursing and teaching knowledge.
Experience a unique approach to nursing, focused on caring for the whole person - body, mind and spirit - with both patients and our students.
Ask us about our FREE introductory 7-day Graduate Orientation class that will jump-start your graduate studies. Experience what students around the world have gained earning a degree with ORU Online.