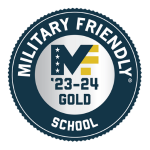 The Ryan Iannelli Veterans Lounge serves as ORU's memorial to Marine Captain Ryan Iannelli, an ORU graduate who died while deployed to Helmand Province, Afghanistan, in support of Operation Enduring Freedom on September 28th, 2011. Iannelli graduated from ORU in 2006 with a degree in public affairs. While at ORU, he played four years on the Golden Eagle baseball team and helped advance his team to the NCAA Super Regional Tournament.
Iannelli loved life and lived each day to its fullest. Some of the earthly things he loved included his family, friends, baseball, good jokes, home-cooked Italian food, his country, and the Marine Corps. However, his first love was Jesus Christ; his relationship with the Lord was paramount and the driving force of his life. He delighted in sharing the Gospel and seeing souls won for God's kingdom. Iannelli continues to leave his mark on this world even in death, as his testimony is still bringing souls to a relationship with Christ.
The lounge serves as a respite for our student veterans and their families where they can relax, watch television, and have access to a fridge, coffee, and microwave. The Student Veteran Organization occasionally holds meetings here, and it serves as a focal point for sharing veteran-related information. Come check it out!