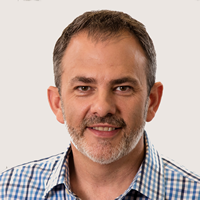 Kenny Mullican graduated from ORU in 1991 with a Bachelor of Science degree in computer science. He is an expert in systems analysis and design, project management, enterprise information architecture planning and design, evaluation of technology value, identification and assessment of opportunities for technology-enabled business transformation and information systems management.
His day-to-day responsibilities include achieving competitive advantages through the effective development and integration of technology into his organization, improving business processes and support critical business strategies by directing the development, implementation, and maintenance of business applications systems, formulating business systems architecture plans, estimate costs, and ensure projects meet strategic needs, and helping his business avoid cyber-security threats through a comprehensive plan for training and implementation of controls and defensive systems.
Specialties: Application development, Systems Analysis and Design, Project Management, Cyber-security, Risk Management.