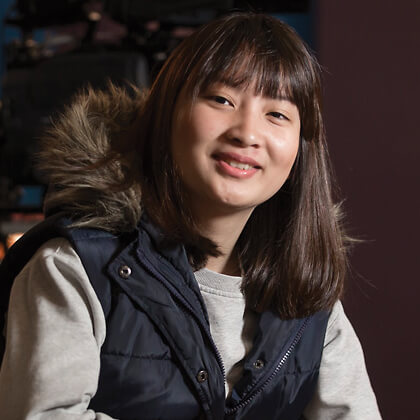 With only a semester of studies under her belt, freshman Vonny Kumala has already experienced more cultural diversity on the ORU campus than in 18 years of living in Indonesia.
Except for a childhood trip to Japan, Kumala had only traveled inside her home country prior to starting her education at ORU. But at her new college home, different cultures are all around her — and she loves it.
Since beginning ORU's new degree program in cinema, television and digital media, she has met fellow students from places such as South Korea, Brazil and New Jersey.
"What I like most about ORU is meeting people from all over the world," she says. "When I graduate, maybe I will get to stay in touch with these people."
Like many ORU students, Kumala was not born into a Christian home. In fact, Indonesia is 87 percent Muslim. Her personal experience growing up in the capital city of Jakarta underscores the importance and potential impact of international missions.
As a child, Kumala attended a Christian church because she says it paid for her to go to school. But she didn't really meet Jesus until a series of life-changing events unfolded.
Kumala's parents divorced when she was young, and her father died when she was 9 years old. By that time, she did not have a relationship with her mother. A British missionary couple attended her dad's funeral and eventually became Kumala's foster parents. During the nine years she lived with the couple and their six other foster children, she started following Jesus and grew in her faith.
As high school graduation neared, Kumala's foster parents suggested she consider applying to ORU. As graduates of Rhema Bible College in Tulsa, they were familiar with the university. Kumala, who had dreamed of studying abroad, did not have to be persuaded. "I was interested in ORU because it was a Christian university, and I'd never been to the U.S. before," she says.
Kumala was soon accepted to ORU, but she knew she would need some financial help to attend. Her foster parents' friends are ORU graduates and live in Tulsa. They nominated Kumala for the Quest Whole Person Scholarship based on her strong academics, involvement in her high school soccer club and her eagerness to follow Christ. Receiving the scholarship made her dreams of attending ORU a reality.
"Before I applied, I was in doubt because financially we didn't have enough," says Kumala, who is now living with the Tulsa family while she attends ORU. "Not every one can get this privilege. I want to show my appreciation."
Moving to Oklahoma has been a big change for Kumala. She says Jakarta has a robust public transportation system, while most people in Tulsa have cars. In Indonesia, lunch and dinner always included rice, but in the U.S. pasta and potatoes seem to be more popular staples.
A film lover, Kumala hopes to use her degree to enter the world of video editing. She might return to Indonesia to make movies, but she isn't sure. A world of possibilities awaits. "ORU has been a whole new experience, not just educationally but culturally," she says. "I think it will help me to be a successful person."