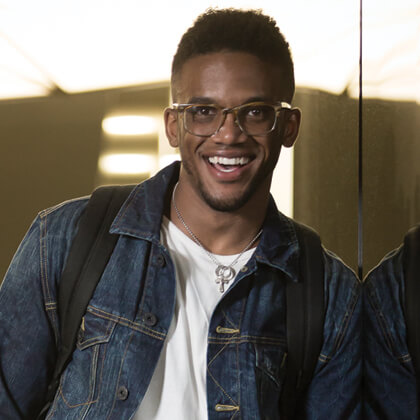 Since he was a teenager, ORU freshman Shavonte "Trey" Denzel Celestine has been a man on a mission.
"The Lord called me to lead a generation in desperate pursuit after Him," he explains. "I always wondered, how? How will I do that?"
Celestine grew up in Lake Charles, Lousiana, where he was raised by eight women, including his mother, grandmother and aunts. His parents divorced when he was young, and his grandfather lived overseas, leaving Celestine and his twin sisters without a strong male influence.
Despite his parents' failures, Celestine says he grew up seeing them live out their faith. They took their children to church and also shared with them a deep passion for prayer and worship.
In high school, Celestine was a strong student and a star football player. He received four scholarship offers to play football at the collegiate level but missed the deadline to take the ACT, forfeiting the scholarships.
"I was distraught," he admits. Fortunately, God used that season of disappointment to show Celestine his greater purpose.
After graduation, he accepted a leadership position at a church in Louisiana and oversaw the growth of its youth ministry. When one of the church's pastors left to join the staff at New Life Church in Colorado Springs, Colorado, Celestine began researching the church. Amazingly, he learned the mission of its youth program, Desperation Student Ministries (DSM), mirrored his own. The program's motto is "a generation in desperate pursuit of God."
Celestine applied for an internship with DSM and spent the next 2 1/2 years there, learning how to pray and taking basic theology and ministerial leadership courses. During that time he also experienced a renewed closeness with his father. However, he had always had his sights set on ORU.
"ORU has always been a passion of mine," he says. "I always saw it as being a part of something bigger than myself."
Eventually, God told him it was time to go to Tulsa. He provided for Celestine financially through several scholarships, including the ORU Quest Whole Person Scholarship.
Today Celestine is pursuing a degree in Christian caregiving and counseling with a minor in business. He calls his major "the best of both worlds — you get the psychology and also the theology" — and hopes to someday counsel youth and young adults. He also is using his athletic abilities in a new sport; he recently joined the university's cheer team.
At ORU, Celestine is as happy as he knew he would be. He calls it "a dwelling space for the Holy Spirit to reside./p> "The student body is unlike no other," he says. "What other school can you go to and meet people from 84 different nations pursuing God?" Celestine says he remembers encountering the Holy Spirit at a young age. Now 22, he knows that leading a generation starts with him. "Every male in my family has been in trouble with the law by the time they were 17," he says. "Every male in my family has had a baby before they graduated high school. "Now I have the opportunity to be first male in our family to graduate college." Get Nominated