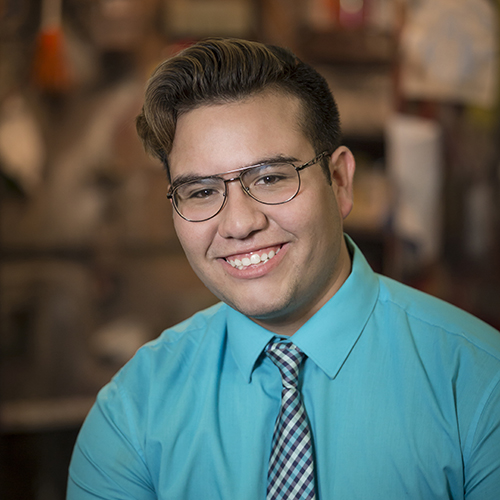 Omar Farfan, an ORU freshman, has never been afraid of change.
When he was eight years old, he and his parents moved from Lima, Peru, to the United States.
"My mom and dad wanted a better life for me," Omar says. "Peru isn't the nicest place. It has its nice things, but we lived in a dangerous part."
His family eventually relocated from New Jersey to Utah, and last year, Omar began classes at Utah State University. Just a few months into his college career, he attended a youth conference in Denver with his church.
"ORU had a booth and a presentation during the service, and they were offering applications, so I filled one out, and I didn't think much of it," Omar recalls. "I was like, oh, it's a private school, probably a lot of money, but I might as well just do it and see where it goes."
Omar had chosen Utah State because it was affordable and had a good engineering program. He began college thinking he would be a civil engineer but quickly realized his heart wasn't in it.
"As I was going through the semester and going to my classes, I thought I just don't see myself doing this for the rest of my life. I may get paid a lot of money, but I'm going to be miserable. I'd rather make no money and at least be happy."
During his second semester, Omar changed his major to theater, something he's been enjoying since seventh grade.
"I had always been really good at math," Omar says. "It came natural to me, but I didn't necessarily love it, but I've always wanted to do theater."
Omar had never heard of Oral Roberts University until the chance encounter at the conference. He started receiving phone calls from ORU, and one call invited him to a Quest Whole Person Scholarship event on ORU's campus. Open to more change, Omar flew east to Tulsa.
"It's really beautiful, really hot there, but I like it," Omar told an admissions counselor by phone after the trip. Although he was interested, Omar was hesitant about the tuition costs.
"She [the admissions counselor] pulled up my account, and the school had offered me lots of different scholarships," Omar says. "I thought, this is a sign from God. There's no other way around it. This doesn't happen every day."
God is an important part of Omar's life, and he says he and his family "let God dictate what we do."
"If it's an opportunity and God put it in our lives and God says yes this is where you need to be, then that's where we go," he says.
The transfer to ORU was no different. Omar is now studying musical theater and minoring in dance. He says he's enjoying going to a Christian school.
"My classes, even if they're not biblical, all bring it back to God," Omar says. "For example, in my introduction to theater class, we talk about being a critic. We talk about how you can use your faith, but you also have to bring in the outside world and see how they see things."
When Omar shared his story, he was just a few days away from his first ORU performance, "The Star-Spangled Girl," in which he was double casted.
"I've always really liked the fact that in theater, even though the characters aren't you, you can find a bit of yourself in every character," Omar says. "I really like that I can make people smile, people laugh. That brings joy to me. There's no feeling that beats that."