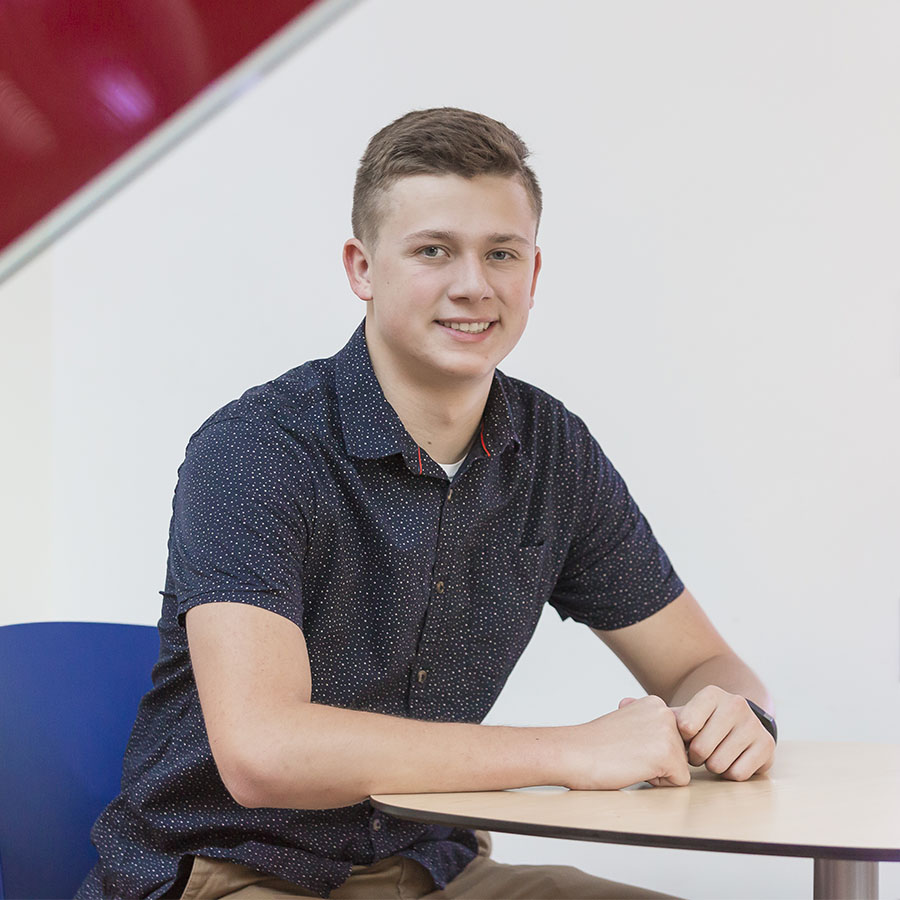 You could say Noah Kreitz's journey to Oral Roberts University was generations in the making. Noah learned about ORU from his mom, who learned about it from her mom.
"My mom actually watched Oral Roberts on TV with my great grandma and my grandma, so that's what brought her to ORU," Noah says.
Noah and his family are from Saline, Mi., a city outside of Ann Arbor. While his mother didn't even visit ORU or Tulsa before she began classes, Noah came to campus three times before moving to his college home.
When he was in seventh grade, Noah and his family visited his mom's alma mater on spring break, mainly because it was somewhere new to go on vacation.
"I was young, so I wasn't really thinking about college at that point," Noah says. "My parents never really had it in their minds that I would go to ORU, but even then in seventh grade walking through the Prayer Gardens, I thought, I think I'm going to go here."
Noah and his mom visited again for the 50th anniversary celebration, and he made another trip for College Weekend when he attended a Quest Whole Person Scholarship event. Although he had offers to play college lacrosse, it was important to his parents that Noah attend a Christian college.
"As I got older, going to a Christian college wasn't my parents decision, it was mine too," he says.
Noah has gone to church his whole life, and while he says he's "never struggled with faith," it wasn't until his junior high years that he felt himself "getting closer to God."
"In seventh grade—that was a big year for me actually—my best friend and I started going to Sunday School together, and we went on a mission trip," he remembers. "That's when I really started to love church—I liked being with my friends and learning the Word. I really enjoyed going to church at that point. Beforehand, I sat through service, but I wasn't really getting it."
Noah says coming to ORU has been an "interesting transition" as he shifted from a big public high school to a private university and moved 14 hours from the place he was born and raised. However, his favorite part has been the friendships he's made.
"I've enjoyed meeting people from different parts of the world," he says. "I think it's really cool how diverse ORU is. I have buddies from Ghana, Singapore, Mexico—I could name off a ton."
Noah is pursuing a business degree as well as a minor in sports management. His sports management class has been a highlight of the first semester.
"It's been a great opportunity for me, and it's really opened my eyes to career opportunities," Noah says. "I wanted to do business, but I didn't really know how to incorporate my passion for sports. Now, I see there are opportunities for me to work in the sports world and the business world at the same time."
Noah says he's grateful for all of the experiences so far, especially being named a Quest Whole Person Scholarship recipient.
"I think being a whole person is really important in life, especially as a Christian," he says. "I want to continue to grow myself into being a whole person,and ORU is helping me do that."