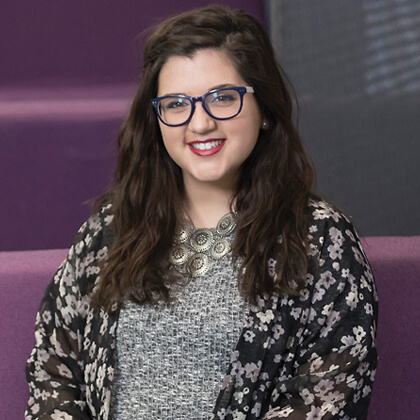 Growing up, Natalie Reed's frequent travels to South America helped shape her understanding of the world and expand her cultural perspective.
Reed grew up near Akron, Ohio, but her mother is from Paraguay, a third-world country. As a child, Reed and her two sisters spent a month there each Christmas. "I have this whole other cultural side to my life," she explains.
Reed grew up in a Christian home and attended a public high school, where she did not have many Christian friends. For that reason, she was drawn to attend a Christ-centered university to get to know like-minded people.
Although Reed's father attended ORU his junior and senior years, Reed says she purposefully planned to attend college elsewhere because she wanted her undergraduate experience to be unique to her. However, after Reed's oldest sister enrolled at ORU, Reed accompanied her family to Tulsa several times. On those visits, she was able to experience the campus atmosphere for herself.
When it was Reed's turn for college visits, she was surprised to find that none of the Christian universities she visited compared to what she had seen at ORU. She especially respected that ORU requires students to attend chapel.
"I loved the unity of the school and the fact they say, "These are our beliefs. This is what we do,'" Reed says. "I like that because that's how I was raised."
Reed's oldest sister graduated from ORU in December 2014 with a communications degree, and her other sister is studying public relations at ORU. Following their lead, Reed is now an ORU freshman pursuing an advertising degree.
"Now ORU is kind of a family affair," she jokes, adding, "I see how much of an impact ORU had on my dad, including friendships and what he learned inside and outside of the classroom."
Reed enjoys having her sister on campus, and although the two try to give one another some space, they make a point to attend church together each Sunday and even have a few mutual friends.
With three children nearly overlapping at ORU, Reed's family is grateful for the financial help she is receiving through the Quest Whole Person Scholarship. "When I applied for the scholarship, I showed that I was not coming here just to get a degree but to get as much out of the ORU experience as I could," Reed says. And she is making progress toward that goal.
As a keyboardist for the ORU worship team, Reed meets weekly to pray and worship in the campus prayer tower. Students can join in at their leisure six evenings per week. "It's so cool to be a part of," Reed says of the campus ministry. "It's a pretty unique thing to ORU."
In March, she will travel to Los Angeles to do street ministry with ORU Missions. She likes that ORU encourages students to go on at least one mission trip during their college experience. It's all part of the college's focus on shaping well-rounded students with global perspectives.
"There is obviously the focus on academics, but with ORU they really care about you as a person," Reed says.