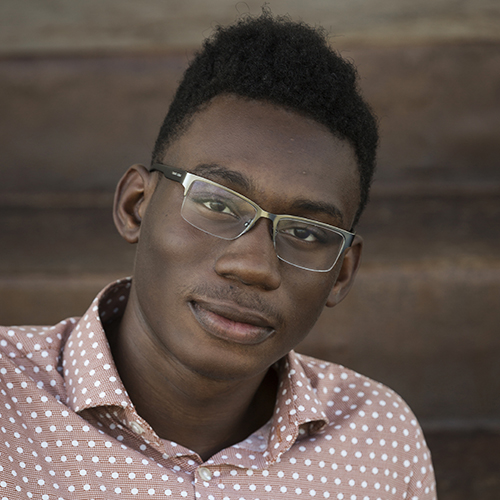 For Matthew Wilson, Oral Roberts University means more than classes and a degree. He's making family history. Matthew is the first person in his family to go to college and the third in his family to graduate from high school.
"For me, it wasn't anything major, because I just felt like I was doing what I was supposed to do," the ORU freshman says of his achievements. "I see on the other side that it's something to be proud of."
Matthew is from Tampa, Fla. He learned about ORU when a recruiter visited his high school. He says he didn't pay much attention, but a fluke event reminded him of the university more than 1,200 miles from home.
"When I was doing research for another school, the computer kind of messed up, and it sent me to the ORU webpage, so I started researching the college more," he says.
Matthew realized he was more interested than he originally thought. He and his dad later drove 24 hours straight from Tampa to Tulsa for a Quest Whole Person Scholarship event.
"Once we stepped on campus, I knew this was the place I wanted to go to," Matthew remembers. "I just felt drawn to ORU."
The road trip proved to be fruitful: Matthew says he felt called to come to ORU, and he also received a scholarship.
"When I got the Quest scholarship, it made me feel like it's actually possible to do this [go to college]," he says. "I'm not alone. Jesus is watching out for me. It put me in a better place in my faith."
Matthew's faith has always been a big part of his life. He grew up going to a small church where he sang in the choir, helped with maintenance and served as an usher. When he was about 12 years old, many of his family members stopped attending. Matthew is one of ten children, and as the kids got older and his mom was working more, not everyone went to church regularly. It was about that time Matthew received his first Bible.
"I wasn't sure what was what at that point in time," he recalls. "I started reading, and there was one verse that basically led me down the route of no longer having to be pushed to do things but walking in the will of God and not in the will of man. I needed to go to church, because it was put on my heart to go to church."
Knowing that ORU is built on a foundation of faith was originally a turn off for Matthew. His sister Jasmine passed away about two years ago, and he was "angry at God and not wanting to deal with that every day." Jasmine and Matthew were close, and she was the person who helped him realize his love of math and eventually find his career path in accounting, which he's studying at ORU
"When I was growing up, I wasn't really into math, but I had my sister who really helped me," he says. "From that day on, I got really good. I was at the top of my class, and I was basically teaching half of my class how to do our math assignments."
Matthew says he now believes "God had a plan for her, and she was in pain." He says he recently felt peace about the experience after time spent at ORU's Prayer Tower. During a chapel service, Matthew also realized that ORU was part of God's plan for him.
"I was sitting there, and the room basically went silent for me," he says. "Then, I just heard, 'I'm here' from God. I realized this is real. This is why I'm here, and I have a purpose in life to be here, and He has set the purpose out for me and walked me through the path along the way."