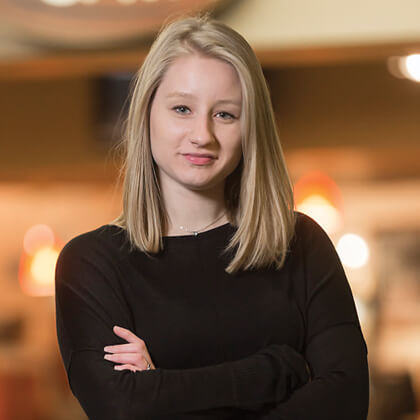 ORU freshman Marlena Gailis has lived all over the world, including in countries with governments hostile to Christians. Though challenging, the experiences have deepened her appreciation for a university that glorifies Christ.
"ORU is a place I can grow spiritually, hear the voice of God and live by God's mandate to Oral Roberts," she says.
Gailis is originally from Latvia, a democratic country to the west of Russia, where she lived until she was 15. Her mother, an American ORU alumna, is an international school principal and her father a Latvian, full-time missionary.
When Gailis was young, her parents opened a Christian school in Latvia. She recalls watching them share their faith when people asked why their children were so well-behaved.
"My mom would use it as an opportunity to open up about how Christianity is a lifestyle, not a religion," Gailis says. "She would indirectly be telling people what Christ is about."
Her parents' travels eventually moved the family to Russia, China and Indonesia, exposing Gailis to different belief systems such as Buddhism, Hinduism and atheism as a high-schooler.
Living in China for two years was especially difficult because Christians there have to attend "underground" or secret churches, Gailis says. But physically, she and her brother, both blonds, often attracted locals. Like their parents, the siblings didn't miss any opportunity to show the love of Christ.
"Everyone was always looking at us and wanting to touch our hair," Gailis laughs. "We used it as a way to bless people. We would talk to them and take photos with them and give them the compassion we know is our duty."
Although she had to be secretive about her faith, Gailis says living in China strengthened her relationship with God. The experience also solidified — through her heartbreaking visits to Chinese orphanages — her calling to work with children.
When Gailis was applying to colleges, she questioned whether she would be happy at ORU since she had not been in a Christian environment for so long. Ultimately, she decided to apply for the Quest Whole Person Scholarship at her mother's alma mater.
"I went into the interview process not expecting a single thing, and I ended up receiving the $20,000 scholarship," Gailis says. "It was a definite clue ORU was where I was supposed to be."
Since stepping on campus, she describes feeling a supernatural peace that confirms her decision. On freshman move-in day, she was shocked how happy her peers were to help her get settled. "That is truly ORU's community and the way they treat people," she says.
Gailis returned the favor by welcoming people to campus during her first semester. As an ORU student ambassador, she gave tours, invited potential students to events and even helped with College Weekend and Quest Whole Person Scholarship events. She continues to work for the ORU admissions office.
Gailis recently changed her major from psychology to nursing thanks to encouragement from her adviser and parents. She is in the process of getting her test scores up to enter the nursing program.
"No one at ORU is going to tell you that you can't," she says. "They want the best for you and to encourage you."