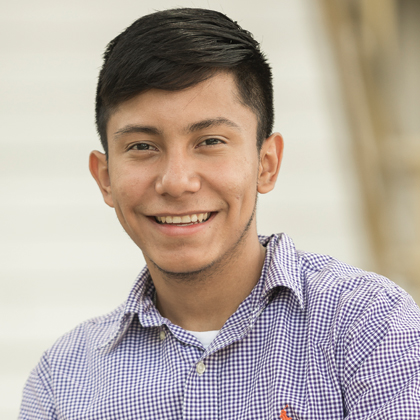 Since he was a young child, Manuel Cruz has dreamed of entering the business world. For example, when other boys dressed as firefighters and police officers for Halloween, he dressed up as a businessman.
As he grew up, Cruz says his goal expanded from not only achieving personal success to also bearing eternal fruit. He came to realize that God wants to bring businesspeople to Christ and to use their resources to spread His name among the nations. Now, as a business management sophomore at ORU, he says God is preparing him to be part of that mission.
"I feel like God wants me to be a vessel," Cruz explains. "People will say, 'Why is he so successful?' and I want them to see Him through me."
Ironically, Cruz's path to ORU was birthed from disappointment. He originally planned to attend a small Christian university in Indiana. But when his scholarship didn't go through at the last minute, he knew God had other plans for his education.
That's when his sister mentioned ORU, a nine-hour drive from his home in San Antonio. Although he had some anxiety about attending a university in a new city where he had no friends, Cruz says the Holy Spirit gave him a peace the moment he stepped on campus. He was also pleased to learn he had received the partial Quest Whole Person Scholarship.
"The scholarship gives you peace of mind," he says. "Instead of worrying about college debt, I can focus on becoming the whole person God wants me to be."
Cruz grew up with two different faith traditions after his parents separated when he was 5 years old. His mother raised him in the Catholic church, while his father was an evangelical Christian. Neither forced their son to conform to their beliefs, but Cruz says attending his dad's weekly Bible studies kindled his own interest in Christ.
Today it's clear Cruz has come a long way. He is training to be a Young Life leader at ORU, a role that includes "basically hanging out with high schoolers, trying to build friendships with them and eventually talking to them about Jesus." He has also joined campus outreaches such as visiting a nearby nursing home last semester.
One of his favorite parts about ORU is its focus on the "whole person" and trying to improve oneself spiritually, academically and physically. He also loves that people on campus are so happy, although he admits their hospitality took a little getting used to. Now, Cruz feels right at home.
"As a young Christian male, it has been great to be with other people who have the same experiences and struggles and are striving to know God," he says. "I just feel like, these are my people, this is my community."
With his degree, Cruz plans to start his own business: a small technology company. If he is successful, he wants to eventually invest some of his profits into real estate like his family, who buys and sells houses.
In the meantime, he looks forward to the challenges and opportunities that ORU will provide over the next two and a half years.
"ORU helps you grow as a person," he says. "They don't let you be comfortable with who you are now. People say, 'If you have little plans, don't come here.'"