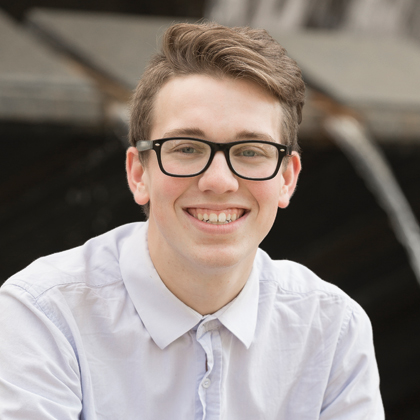 By the time Luke Wagner enrolled at ORU, he had already visited 10 countries outside the United States. That's because being homeschooled through high school afforded him the opportunity to travel with his father, the founder of Tulsa-based Wagner Ministries International, on mission trips all over the world.
These global experiences shaped Wagner's young life and guided him to ORU to study Biblical literature with a focus in New Testament. Now a sophomore, he says his degree could be preparing him for a role as a pastor or a missionary — all he knows is that God has called him to full-time ministry, and ORU will help him get there.
"I just want to help people, and I believe Jesus is the best help a person can have," Wagner explains.
Born in Canada, Wagner moved to Owasso, Oklahoma, with his family as a young child. His father and two eldest brothers are ORU graduates, and his third brother is finishing his degree there, as well. Wagner says having three brothers at the university gave him a chance to visit often in high school and see their student experiences up close.
"ORU just already felt like home to me," he says, and receiving the partial Quest Whole Person Scholarship was icing on the cake.
"As we all know, college is expensive," Wagner says. "I didn't have a lot of money coming out of high school. The fact that ORU is ready and willing to help me with tuition is so comforting."
Since becoming a student himself, Wagner has been impressed with ORU's on-campus community. He says he has found "a great sense of brotherhood" among the young men living on his wing and loves that there are so many opportunities to get involved.
Some of his favorite activities have been attending chapel as well as a professor-led Bible study on Monday nights. The latter demonstrates ORU's dedication to its students' spiritual growth, Wagner says.
"My professors don't just care about me passing their classes," he says. "They want to pour into me and help me to be a better person.
"I love the focus that the university has on what's really important, and that's a relationship with Jesus."
On fall break, Wagner will continue his world travels when he goes to Greece and Rome with ORU. It is a trip for which he will earn class credit, and he expects it will strengthen both his faith and his knowledge of the New Testament.
"I'm excited to go to the places Paul wrote to and journeyed to," Wagner says. "This is an opportunity I wouldn't have at any other university."
Although he isn't yet sure where his education at ORU will lead him, Wagner says he loves serving teens and youth. He says the teenage years can be some of the most difficult and that figuring out who you are during that time period often sets a precedent for individuals' lives.
Above all, he says his passion is to fulfill the Great Commission, wherever that might lead him.
"There are so many people who have never heard the name of Jesus, and it's our job to go and tell them," Wagner says.