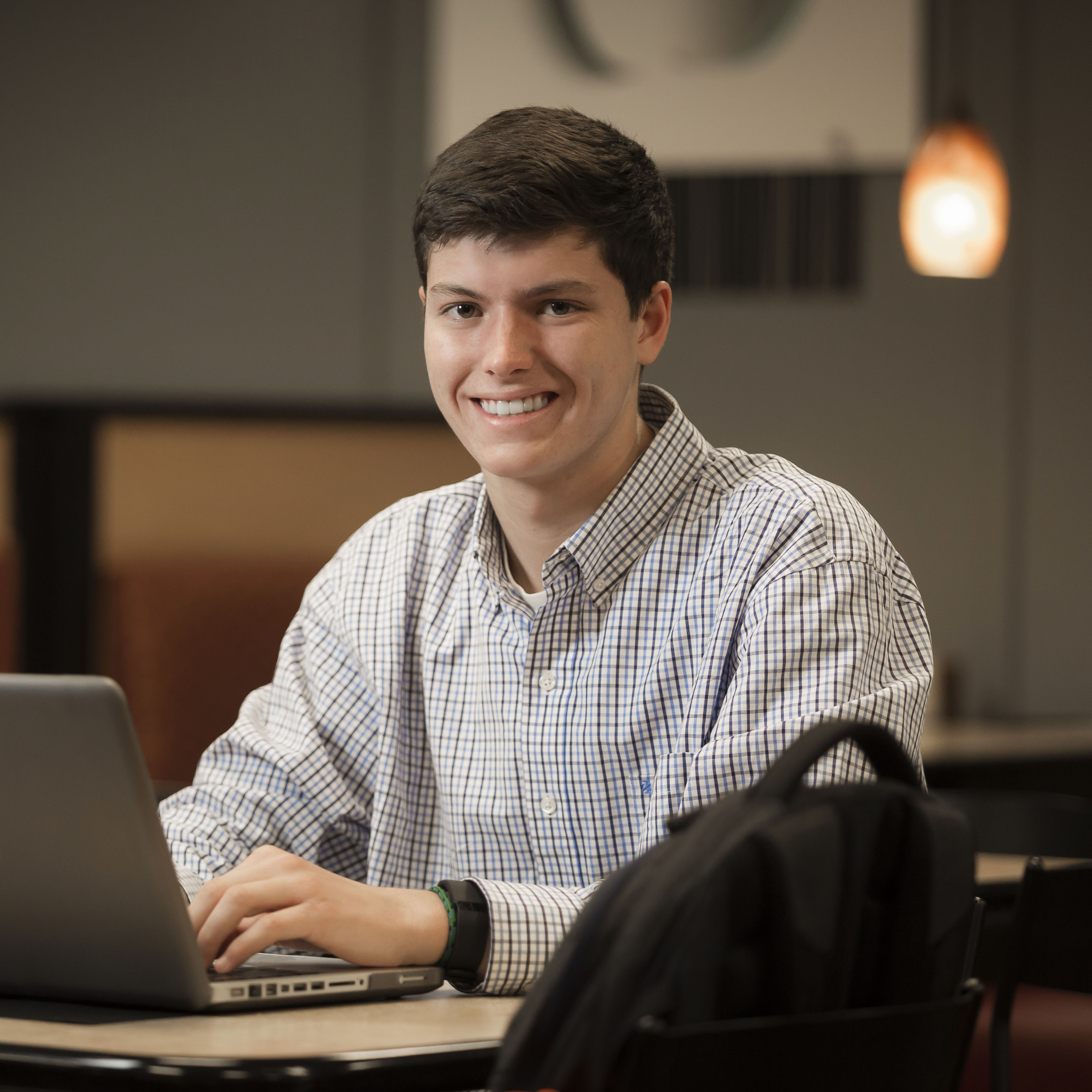 Some people can't wait to break away from their family's roots and experiences, but Oral Roberts University freshman Keaton Tillack was the exact opposite.
"My dad graduated from ORU with a marketing degree, which is what I'm also getting, so I've always wanted to come here," Keaton says.
As a young child, Keaton remembers visiting family friends in Tulsa and seeing the Prayer Tower and bronze Praying Hands sculpture.
"We would drive by, and my dream was always to come here, but I didn't think it was possible with finances and everything," Keaton says. "It was definitely a God thing how all of that worked out financially with the Whole Person scholarship and other scholarships."
Keaton was born in Denver but spent the last 13 years of his life in Branson, Mo., where his dad works in development for Kids Across America, a Christian sports camp that empowers urban youth and their mentors through camping and education. Keaton's family—his parents, two older brothers and younger sister—moved to camp during the summers, and he spent his days swimming, tubing and volunteering with his dad. In fact, his dad's camp leadership and his time as a camper made such an impact on Keaton that his dream job is to be a director at Kanakuk's K1 camp. Kanakuk is another Christian sports camp in the Branson area associated with Kids Across America.
"I love camp so much, because I can just be myself," he says. "When I'm at camp, that's when I'm most myself. I love the opportunity to share the gospel through athletics."
Keaton's faith has been an important part of his life since we was young enough to understand.
"I became a Christian when I was really young," he says. "I think I was probably around five or six. I decided to be a Christian because my older brothers were Christians, and I wanted to be like them—the typical younger brother. I asked my dad what that looked like, and he prayed with me and we walked through it all together."
Keaton's faith has grown through the years, and although he was baptized as a young child, he was baptized again three years ago.
"Being at ORU, my faith has definitely increased," Keaton says. "I look forward to chapel every single week, and I'm sad when they're canceled."
Chapel isn't the only highlight of Keaton's freshman year so far at ORU. He runs hurdles for ORU's track team and has enjoyed meeting teammates and classmates from all over the world, including Africa and South Korea. He also says his professors have made him grateful he chose ORU.
"My accounting teacher has kind of taken me under his wing," he explains. "He's not just there to graduate students. He's there to see us succeed, not just get by. I was telling him how I need to maintain a certain GPA to keep my scholarships. He was asking me what kind of student I am and what kind of grades I've gotten in the past, and he said, 'Okay, I want to help you. I want you to keep those scholarships. Let's do this together.' That was huge for me—just knowing I'm not doing this alone."
Keaton sees the whole person philosophy ingrained in every part of ORU.
"I love the whole aspect of spirit, mind and body—how they're trying to create students with all three of those strengths," he says. "That's something my family has been huge on, just developing every area of your life. So, it's been nice coming to a college that also is huge on those values."