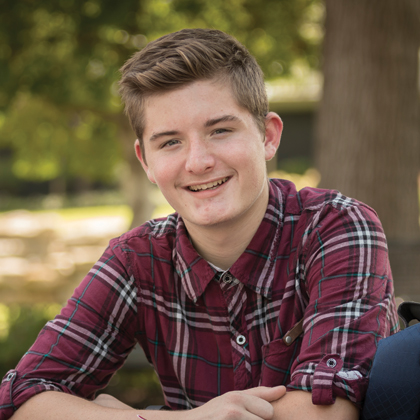 ORU freshman Josh MacPhee is from Clermont, Fla., but he hasn't called one city or state "home" for quite a while.
Since he was in fifth grade, Josh and his family have traveled continuously to "the poorest communities in the states to love on people."
When Josh was young, his father worked with Benny Hinn Ministries and was often away from home. He came home from a ministry trip one day and announced to Josh and his family that they were going to travel the country and preach the gospel together.
"At first, I thought that sounded great, because I just wanted to spend time with my dad, but over the years I realized it was something I actually wanted to do," Josh explains. "It started as my parents' calling of what they were supposed to do, but it turned into something I loved. It was no longer something God told my dad, it was something he told the whole family.
As part of Just for Him Ministries, Josh and his family organize free events called Love Out Loud where food, live music, preaching and prayer are offered to community members.
"It's always the same event, but of course, there is always something different, because God always changes everything," Josh says. "One event, we literally had one package of hot dogs for the whole event. We prayed and prayed and prayed, and then out of the blue a semi-truck full of hot dogs and hot dog buns showed up. There's always a God story at every event."
Between events, Josh and his three siblings homeschooled through Florida Virtual School. Despite being from a different part of the country, Josh says he's always known about ORU through a close family friend whose children attended the university. While his older sister has wanted to go to ORU since she was 13, Josh says it wasn't a "really big dream" of his at first.
"I liked the school, but it wasn't something I was looking into," Josh says. "Then, we dropped my sister off, and I was completely changed. The way the students and teachers interacted with you was amazing. I got hooked."
One year later, Josh joined his sister.
"When I got here, I could tell that everyone cared about education, but in all reality, they really cared about their relationship with God and furthering and growing that relationship."
Josh says the university's "atmosphere" is what makes it the perfect fit for him.
"It's just the way that they love God, and no matter what, their main focus is making sure this campus is focused on God and the principles God has put in the Bible."
To Josh, receiving the Quest Whole Person Scholarship was much more than receiving financial support; it provided affirmation.
"I told God, 'If this is the university you want me to go to, I don't want to have to pay out of pocket at all while I'm at school.' The Whole Person Scholarship was the last bit I needed."
A few months before moving to Tulsa to attend ORU, Josh's sister, an ORU sophomore, told him he would have lots of opportunities at the university. He initially shrugged off the comment, thinking she was simply trying to be encouraging. However, as Josh has been accepted into organizations and roles he hasn't felt qualified for, he sees her comment differently.
"Since I've been here, doors have been opening, and opportunities have come," Josh says. "I've just been amazed. I keep thinking, wow God, when you told my sister things were going to happen here, you were serious. I've just been overwhelmed."