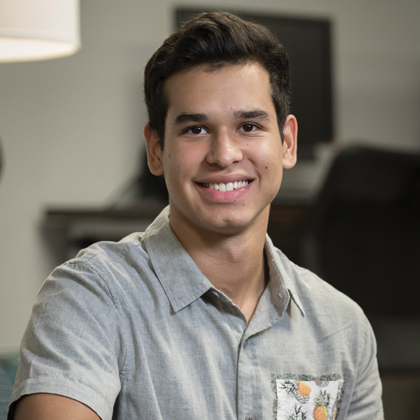 Growing up, Jaden Rodgers saw what it was like to take one's faith into the secular marketplace. He witnessed his father, a self-employed financial adviser, doing it every day.
"I always noticed how he went into people's lives and not only helped them out financially but spiritually," Rodgers says.
The ORU sophomore recently declared his major — engineering — and plans to take his father's approach in a different industry. Rodgers says he enjoys physics and the "hands-on" side of science and might like to become a mechanical engineer.
"It's really secular in science right now, and I feel I could really make an impact there," he explains.
Rodgers was born in Tulsa, but his family moved to Lansing, Michigan, when he was 9 years old. Despite the move, ORU was never far from Rodgers' mind as he grew up. His parents are alumni, and his older brother is a senior at ORU studying biology. The two currently room together on campus, and his brother is the resident advisor of their floor.
"ORU is kind of a family legacy, if you will," explains Rodgers, who also has two younger siblings back home in Michigan.
Since coming to ORU in 2015, Rodgers has cherished the relationships he has made through his classes and campus involvement. A soccer player through high school, he has played intramural soccer, "bubble soccer" — in which the players wear giant inflatables — and flag football. He has especially enjoyed serving as a small group leader for the Burmese soccer outreach. ORU students regularly help children of local Burmese families practice soccer, share a message or word of encouragement, and pray with them.
With so many activities to choose from, Rodgers admits time management is his biggest challenge in college. But "Coming here is one of the best decisions I've made," he says. "Being at ORU has definitely strengthened me to become the person I think God wants me to be."
Although his classes are academically challenging, Rodgers finds his peers and professors are willing to offer support. The university's helpful spirit was evident from the moment Rodgers received the Quest Whole Person Scholarship, which he calls a blessing that will help him succeed in the future.
"This is definitely a really positive school," he says. "The professors make time for students and show they care. I just knew when I came to ORU that this was the place I was called to."
Rodgers says he was raised in a Christian home but made a personal decision follow Christ as he grew older, eventually becoming a leader in his home church. He took his first mission trip to Peru at age 14 and has returned since then to several South American countries. On those trips, Rodgers enjoyed talking to people one-on-one about Jesus.
"What I've taken away from those experiences is how powerful God's love is for everybody and how he used me on every trip to bring about His good works," he says.
With the preparation he is receiving at ORU, Rodgers will enter a new mission field upon graduation: the workforce.
"My goal is to go into any workplace and be able to impact people for Christ," he says.