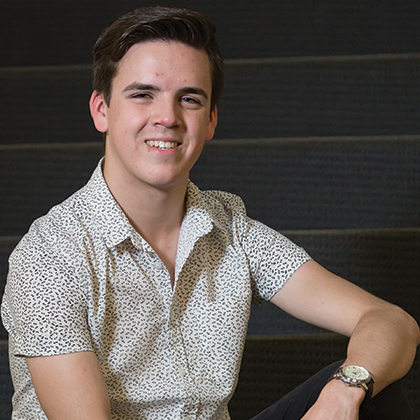 Isaiah Hutchko came to ORU in 2015 to study worship ministry — something he never could have foreseen.
"I always thought I hated music as a kid," he explains. The shift in trajectory occurred during a youth conference with his home church in New York. At the time, Hutchko had fallen in with the wrong crowd at school. He had mostly stopped going to church and, when he did go, he remained seated during worship.
He says he didn't want to go to the youth conference either, but another high school student became sick, leaving a free spot on the trip. The opportunity was life-changing.
"I was brought to tears by the worship in the first service," he recalls. "Everything became real to me in that moment. That's when I really accepted Jesus for the first time."
His junior and senior years of high school, Hutchko interned half days at his church to learn the ins and outs of worship ministry. Under his worship minister, he learned how to sing, lead and run production backstage.
ORU's Worship and Ministry programs attracted him to the university, Hutchko says, and receiving the Quest Whole Person scholarship solidified his decision.
"My family and I prayed a lot about it," he says. "The money we needed really came in and paved the way. It reaffirmed where I was supposed to be in this season of life."
Shortly after declaring the Worship Arts major, Hutchko says he felt he was being called to something more: teaching the Bible and preaching. The realization led him to change his major to the broader Ministry and Leadership degree program with a Local Church Pastor concentration.
He still loves worship, however, and appreciates ORU's myriad opportunities to get involved through music, missions, chapel and Prayer Movement, in which student teams lead prayer and worship sets in the Prayer Tower auditorium. His freshman year, Hutchko played guitar during sets; as a sophomore, he serves as a worship leader.
"Prayer Movement has a really cool atmosphere to it," he says. "It feels less structured than chapel. It's just really spontaneous and genuine worship."
Hutchko's other campus involvement has included intramural soccer and the Burmese soccer outreach team. On Saturday mornings, he and other ORU students practice soccer with local Burmese children, pray with them and share with them the love of Christ.
Overall, Hutchko says the positivity on campus is one of the things he loves most about ORU. He says the vibe was immediately evident from his professors, who make God the No. 1 priority in their classes, to the friendly students.
"It was an amazing experience for me, coming from a public school, where I was just kind of surviving," he says. "People are so much warmer and encouraging to each other."
Looking back over the past five years or so, it is clear how much Hutchko has grown. It's a path he plans to continue with the help of the Holy Spirit and ORU.
"Coming here has really strengthened my faith in a lot of ways and has caused me to rely on the Lord more," he says.