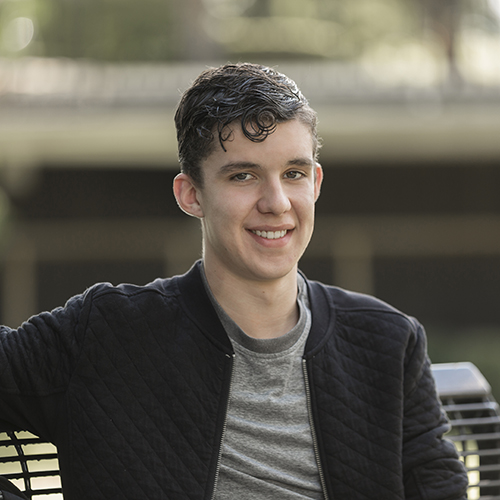 For nearly a decade, ORU freshman Isaac Stone has known he wanted to pursue a future related to health.
"About nine years ago, my mother decided she wanted to become a midwife," Isaac recalls. "She started doing online school for midwifery, and I would always get bored and hang out with her while she was studying. I became her study partner, and I just developed this knack for health and medicine."
Although Isaac's desire to pursue medicine never waned, the path of this pursuit has taken a few turns.
"I graduated from high school very unconventionally," he says.
Isaac was a junior at Edison Preparatory School in Tulsa when he realized there were vacancies in some of the credits necessary for graduation. So, he enrolled at Tulsa Tech.
"When junior year came around with the Tulsa Tech availability, I got into a health class and ended up getting a 4.0 and being in an honor society, and a whole bunch of good things came from me focusing on the medical [field]," he says.
While getting his GED from Tulsa Tech, Isaac also achieved a medial assisting license, earning his clinical hours at a clinic just across Lewis Avenue from the ORU campus. Then, came another unexpected turn.
"I was going to work as a medical assistant and go to college at the same time to kill two birds with one stone—you know, occupy all my time— but that didn't work out," he says.
Isaac decided to stay in Tulsa and enroll in college full time. After receiving some mailed documents regarding the Quest Whole Person Scholarship, he realized that, financially, ORU was an option. He says the promise of the scholarship was "a major swinging issue" that led him to enroll at ORU.
"I knew it was here, but I didn't think I would end up here," Isaac says of ORU. "I was born in Missouri, and I grew up in Louisiana, so I always thought I would go to a school there."
Now a freshman studying biology, Isaac says he is grateful for the "opportunity to thrive in a Christian community." Similar to his career path, Isaac's faith has taken a few turns through the years. Isaac describes the church he grew up in as a "really strict Baptist church," which he found unattractive.
"I went through an experimental phase—I wanted to be a Christian, I wanted to be in this faith, but I didn't want to be tied down to very conservative rules of the past that would inhibit me having a good relationship with Christ," he says. "Then, I had this offsetting period when I was leaning away from God because of these rules that governed over my thoughts of Christianity. Then, I went to another church that was more lenient and relaxed, and it was more focused on how God and Jesus love you as opposed to 'follow these rules or you won't get into heaven'."
One of Isaac's favorite memories at ORU so far was Fall Revival, and although he's only been at ORU for a few months, he says "the campus feels homey."