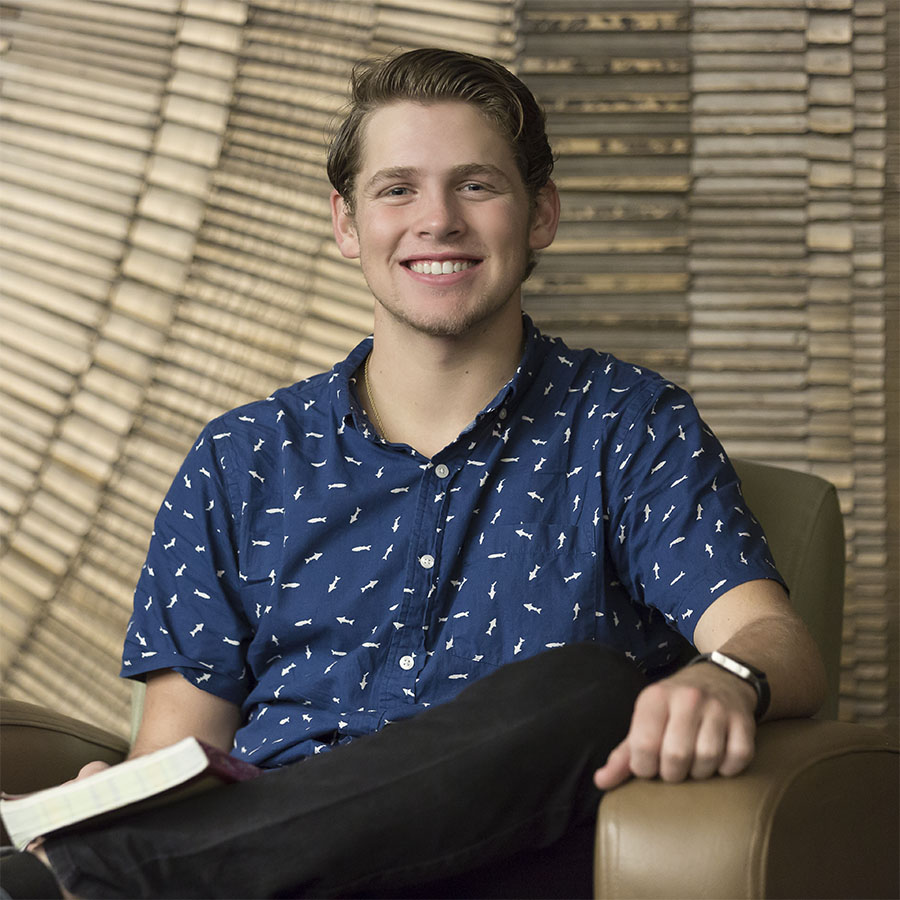 Oral Roberts University freshman Edward Jordan describes his family as "ORU fanatics."
He is the sixth (and final) sibling in the Jordan family to attend ORU. When his sister was contemplating colleges and softball scholarships, a family friend named Edna Drennen mentioned ORU to Edward's dad.
"So, he prayed about it, and one day he was preaching a message, and God just told him, 'You need to have your children go to ORU,'" Edward recalls>
Edward says he grew up knowing he would attend ORU—despite being from halfway across the country in Clermont, Fl., all his siblings went to ORU, and his parents were so impressed they started a scholarship in Edna's name to help other students attend. However, Edward didn't feel pressured by his family. Coming to ORU was something he whole-heartedly wanted.
"The first time I ever stepped on campus, I could sense there was a change in the atmosphere from other colleges and places I'd been, and I really liked that," Edward says.
Edward was ten years old at the time and remembers people approaching his mom on campus and sharing stories of how they got saved. He loved how friendly and open everyone was, even to strangers. Edward's dad has pastored churches, and faith has always been an integral part of his family's life.
"I basically grew up as a Christian, but I really didn't accept Jesus into my heart and fully sacrifice everything to him until I was about fifteen years old," he says. "Both of my brothers and I were at church, and I felt like God was telling me, 'You need to fully give your heart to me, start living for me.' My brothers prayed for me, I got filled with the Holy Spirit, and I was like yes, this is what I want; this is what I've been wanting my whole entire life."
Edward says he "kind of slipped away" from his faith during high school until his senior year when he attended a chapel service during ORU's College Weekend.
"My brother came up to me and said, 'I feel like God is telling me you've gone astray, and it's time to start being disciplined in your faith,'" Edward says.
A few minutes later, the worship leader said something similar—she felt God was telling her some people in the room were losing their faith. That day changed Edward.
"That was the day I became fully devoted to God," he says.
The friendliness Edward admired when he was ten still exists at ORU today.
"I have a couple friends here who really care about my spiritual life, and they want to see me grow," Edward says. "They keep me accountable and they're always there for me."
Edward's peers aren't the only ones showing they care. He says he was struggling in chemistry and went to meet with his professor. She said, "Alright well I'm going to help you understand it, and I want to get you to a point where you are doing great in my class."
Edward was excited by the response.
"I thought, whoa, teachers here truly care about my success," he says.
Edward is studying mechanical engineering and minoring in drama. He hopes to be an engineer missionary one day, helping communities by combining his faith and building things.
Until then, he's carrying on his family's legacy of love for ORU that all began with "Miss Edna."