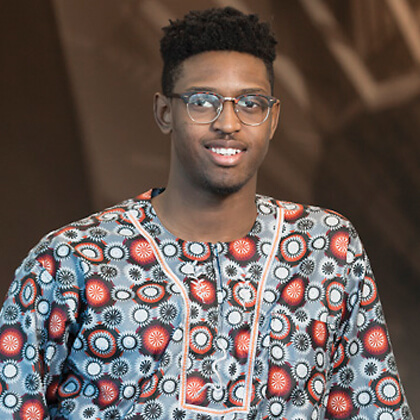 Although David Ropotusin has not traveled outside the U.S., his African heritage and his hospitality have given him a tenderness for international students on the ORU campus.
Eighty-four countries are represented at the university. Ropotusin says many of these students have never before traveled outside their native countries, so they can experience a type of "culture shock."
"Last semester I saw that the international students didn't have anywhere to go for holiday breaks," says the freshman, who is pursuing a degree in cinema, television and digital media.
Ropotusin decided to bring at least one international student home with him for each break. New friends from Nigeria, Russia and Columbia joined him, his parents and sister in Texas for Thanksgiving and Christmas 2015. Ropotusin says the students were grateful, and everyone had a good time.
"There is a positive vibe on the campus that you can see," he explains. "Everyone is here to help each other." Ropotusin's parents grew up in Nigeria and lived in England when he was born. They moved to Dallas about 10 years ago and are now pastors of a church in Arlington, Texas.
Because of their positions with the church, Ropotusin says his parents could have required him to attend and become involved in youth programs. But his experience was just the opposite.
"My parents didn't really force it upon me," he says. "They felt like everyone has their own journey, and I am really grateful for that.
/"Because of my parents' investment in my life and allowing me to find Jesus, I wanted to trust in him."
As a child, Ropotusin says he went to church regularly with his family, but as he got older and grew spiritually, he became more involved. At age 12 or 13, he started playing drums for the youth group, which turned into playing for the adult worship service and eventually becoming music director for his denomination's annual youth convention.
"At first, I was really bad actually," laughs Ropotusin, who taught himself the drums. "But over the years I started to get better."
Now he is a drummer for the ORU worship team. He plays three sets per week in the campus prayer tower, where students can come to pray and worship. He hopes to learn keyboard and guitar by the time he graduates.
In high school, Ropotusin was involved with DECA, an international association of marketing students. He says the club taught him public speaking and laid the foundation for his degree program, which he feels is one of the most versatile at ORU.
He says his college studies will include audio/visual, screenwriting and PhotoShop and film editing courses, teaching him important skills that will be useful in a variety of careers, including branding, marketing and public relations. He also looks forward to taking his first mission trip with ORU Missions.
The Quest Whole Person Scholarship was instrumental in helping Ropotusin attend ORU. He says the financial help means he does not have to worry about how he will pay for books and groceries.
"It was a breather for my parents and a breather for me," he says. "To pretty much cut tuition in half is a really big deal."
Beyond academics, Ropotusin feels at home at ORU. He says he has been encouraged by his adviser, professors and peers. "I am beginning to learn different aspects of God that I never knew before," he says. "ORU challenges your faith and who you are."