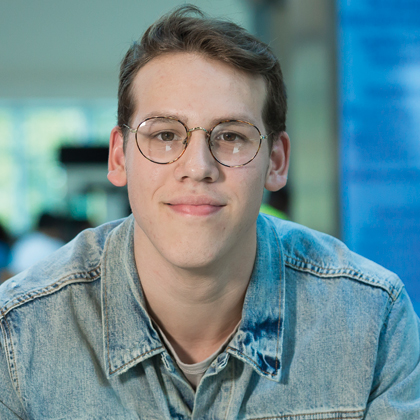 "Too good to be true": That's how Charles Leupen perceived ORU before enrolling there in spring 2016. He had nearly a year of community college under his belt in Dallas, and he was comfortable "playing it safe" near home.
Leupen's parents, aunt and uncle attended ORU, so he was familiar with the university. But his interest was piqued time and again when his older sister and cousin told him how much they were loving the ORU experience. "They kept telling me about it, and I decided I needed to get there as soon as I could," he says.
Since transferring to ORU, sophomore Leupen says he hasn't regretted his decision. "It is a phenomenal, Spirit-filled atmosphere on campus," he says. "It has blown my mind more than I could have imagined."
Receiving the Quest Whole Person Scholarship made Leupen's transfer even more seamless, and it has even been an avenue to make friends. "It helped me financially a whole lot and also has given me a lot of opportunity to meet people," he says. "It's something else to have in common with other students who have success in their minds."
Leupen, a marketing major, definitely has success on the brain. He says he is drawn to marketing as a career because of its various facets and diverse job opportunities. He has friends in the industry who work for churches and others who work for large companies such as Dr. Pepper and Pepsi. The latter seems most appealing to Leupen, who looks forward to the challenges of obtaining and retaining a corporate position.
Raised in a Christian home with his three siblings, Leupen accepted Christ in children's church but came to a crossroads in high school. "The only way I saw to set everything right was to get God in my life," he says.
With his family's encouragement, Leupen grew in his faith. He says he now receives the same type of support from his ORU family — close friends and mentors who provide insight, wisdom and correction. Even his professors have spurred his spiritual growth as Leupen has seen "how they seek God in their own lives and how they treat people and students."
In his first semester at ORU, he is already involved in outreach leadership. His duties are to guide students on ORU's outreach team, to assess what they are getting out of service and to help them see how God might be working. He says leading his peers brings him joy each week and has propelled his spiritual walk.
"At ORU, they push the Gospel and the Spirit-empowered life," Leupen explains. "You can't resist it, really, and I didn't want to. I've just embraced it."
Attending another college before coming to ORU has given Leupen a unique ability to compare the two experiences, and he is grateful he decided to make a change. "ORU helps bring a lot of clarity and spiritual discernment, not only to you, but so you can help others meet their goals," he says. "It helps keep your mind on the big picture and who you can impact for the Kingdom."