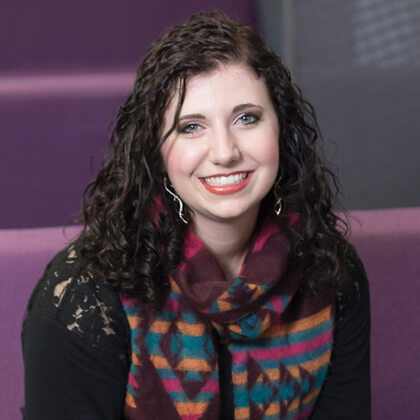 Like many young women, first-year ORU student Brianna Griffith has dreamed of becoming a teacher since she was a little girl.
But at as a teenager she wasn't sure that dream would come true. Griffith was born with three extra electrical pathways in her heart, a congenital defect called Wolff-Parkinson-White syndrome.
Like many people with the condition, Griffith did not experience symptoms until adolescence. At age 11, she started having frightening episodes at gymnastics practices.
"My heart would stop, and I would get dizzy and black out," she recalls. When her heart restarted, it was at the incredibly rapid rate of approximately 300 beats per minute. This required doctors to shock her heart back into a healthy rhythm.
Because physical activity brought on the episodes, Griffith's heart defect caused her to quit gymnastics and dance. She ultimately had surgery at age 13 to fix the problem. She calls the experience one of the defining moments of her faith.
"I needed to rely on God during that time, especially going into the surgery that day, because I was scared to death," she says.
Before and after the procedure, Griffith says she found strength from the story of Christian missionary Bruce Olson. In his autobiography, "Bruchko," Olson writes about his experiences living in South America and sharing the Gospel with an indigenous tribe known for its violence and killings.
"He had to do so many difficult things," says Griffith, now age 18. "I knew that if he had to go through that, then I could do what I had to do."
Griffith credits Mrs. Vance, one of her most impactful teachers, with introducing her to Olson's book and solidifying her desire to become a teacher herself.
A high-achieving homeschool student, Griffith enrolled at ORU with 28 credit hours already completed, both at ORU and Tulsa Community College. She is pursuing an elementary education degree with a concentration in English Language Learner.
After graduating, her goal is to teach third grade while slowly working toward her master's degree in education, a plan she hopes will increase her career opportunities.
Oklahoma is experiencing an unprecedented teacher shortage — a problem largely due to education budget cuts and low teacher salaries — but that won't deter Griffith, who hopes to teach near her hometown of Tulsa.
"Teaching is what I feel I'm supposed to be doing," she says. "I just have a passion for kids and for people." As an undergraduate, she shares that passion through ORU's ARISE Leadership Program, which encourages spiritual formation, community activism and servant-leadership development. Programs like this are one of Griffith's favorite things about attending ORU.
"I love that there are so many outreaches and opportunities to get involved within campus and outside of campus," she says.
The second-oldest of five children, Griffith says she was always drawn to ORU but prayed about the financial help she would need to attend. Today she is more than grateful God answered her prayer.
"The Quest Whole Person Scholarship is helping me to become a teacher — what God has called me to be," she says. "It's helping me help others and impact the next generation."