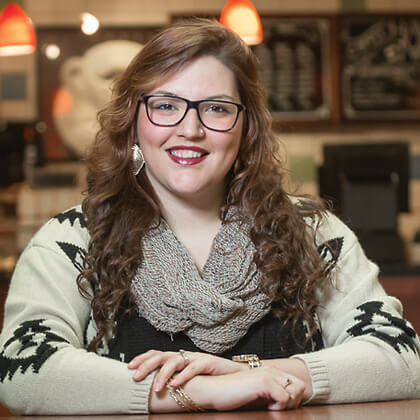 With her family history, it's no surprise that Brianna Garcia plans to enter the medical field. Her parents are both nursing assistants, and her brother is a respiratory therapist. But Garcia, a third-year ORU student, will be the first in her family to become a nurse.
Garcia says her first love is missions, and although she is pursuing a missions minor with her nursing degree, she knew medical knowledge could be incredibly valuable in the mission field.
"I didn't want to just be a missionary without any background," she explains. "And that training is the whole purpose of every student at ORU."
Now, Garcia plans to become a medical missionary. Although she remains open to God's direction, she says she has always felt a pull toward Mexico and feels that is where she wants to someday serve. Garcia herself is Mexican-American and at age 20 married a man from Mexico.
"Marrying my husband was really a confirmation of that calling to Mexico," she says. "God has continually aligned my steps, even from a young age."
Garcia's in-laws do not speak English, which has helped Garcia learn Spanish. She was able to expand that foundation — and her cultural experiences — by taking her first mission trip to Paraguay in 2014 with ORU Missions. She will accompany ORU Missions to Ecuador this May.
Now 23, Garcia grew up in the Tulsa area and graduated from the largest public high school in Oklahoma. Like many local students, she attended Tulsa Community College through a program called Tulsa Achieves. The program helps high-achieving high school seniors obtain their associate's degree for free.
ORU was always on Garcia's radar. Her parents work at the hospital across the street from the university, and Garcia recalls telling them she would someday go to college there. But as graduation neared, she also knew the expense would be a stretch.
While Garcia was working toward her associate's degree, her pastor told her about the Quest Whole Person Scholarship. She applied.
"I said, 'If I receive the Whole Person scholarship, I'm going to go to ORU' — and I got it," she says proudly.
As a married student, Garcia lives off campus. She admits that initially she let commuting keep her from participating in some ORU programs and opportunities. But now she is getting to know many students from her nursing classes and has helped with ORU outreaches all over the city. Garcia even participated in ORU's 50th anniversary parade.
"I love how open ORU is, even for commuter students," she says. "If you're not getting involved, it's not because ORU is not inviting you. They lay the foundation, but getting involved is up to you."