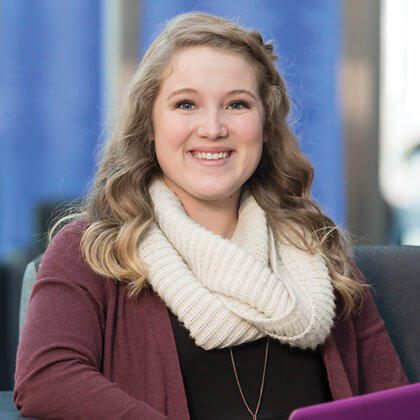 The daughter of two senior pastors, ORU freshman Aura Kenyan went through a season in which she was not sure she wanted to pursue ministry as a career.
"When you grow up in ministry, you see the good, the bad and the ugly," she explains.
However, as she grew older, Kenyan says God opened up her heart to the impact of ministry. Her senior year, she had the opportunity to become a leader in her church's youth group. She also helped lead worship and a facilitated a small group for middle school girls. That was a turning point for Kenyan. "Seeing their hearts and passion for the Lord inspired me to want to do that full time," she says.
Looking back, she feels she has been training her whole life for what God has called her to do. That realization brought Kenyan to ORU to obtain a degree in ministry and leadership with a concentration in missions.
Missions is a passion for Kenyan that was planted at an early age. She grew up traveling all over the world, largely in Central and South America, on short-term mission trips with her parents' church. She estimates that she has made 10-15 trips to Guatemala since she was 10 years old. Most of the trips involved working through the same Guatemalan church.
Kenyan says her cumulative missions experience provided her an invaluable cultural and spiritual perspective. "It opened me up to the movement of the Holy Spirit not just in the U.S. but in the whole world," she says.
As the oldest of six children, Kenyan was homeschooled starting in second grade and says that homeschooling taught her self-discipline. It also taught her service since she often helped her siblings with their lessons. She recalls reading 30 minutes every day with her brother, Jack, who is 12 years younger.
A lifelong ballet dancer, Kenyan spent her free time teaching the practice to 3- to 8-year-olds. Her work schedule was rigorous, requiring her to lead ballet classes every weekday from 3-9 p.m.
Kenyan was born in Texas but moved to Shreveport, Louisiana, when her parents planted their church there. She learned about ORU from her parents, who attended graduate school at the university. She says they highly encouraged her to attend ORU, and the Holy Spirit confirmed that desire. "It was always ORU," Kenyan says. "I stepped on campus, and the Holy Spirit told me, 'This is what I have for you.'"
Although Kenyan's parents were pleased with her choice, she recalls sitting down with them to discuss finances. It was clear Kenyan would need scholarship assistance to attend ORU since the family had five more children to put through college. Fortunately, Kenyan received the Quest Whole Person Scholarship. She liked that the scholarship took into account not only academics, but also a student's dreams, purpose and vision.
"It has made a way for me to go to the school the Lord has placed in my heart," she says of receiving the scholarship. Since coming to ORU, Kenyan has joined the ORU worship team as a pianist and vocalist. She also will travel to Burma in May with ORU Missions. "In a short time ORU has shaped me into a different person," she says.