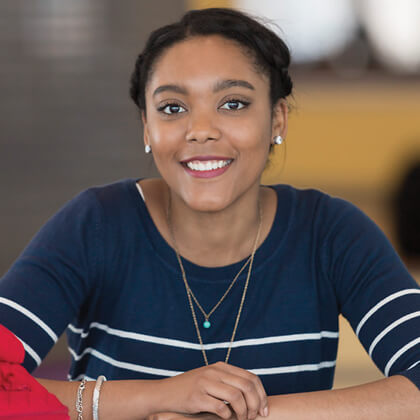 With a father in the U.S. military, Angel Foster moved around the globe three times before she turned 10. Although she admits those years were challenging, the experiences instilled in her a love of traveling and strengthened her ability to adapt to any situation. "I always say, 'If I have my family and God, I'll be totally content,'" says the 22-year-old ORU senior.
One of four children, Foster was born in San Diego and lived in Okinawa, Japan, for seven years. In fifth grade, her family moved to Amarillo, Texas — a "culture shock" for Foster. "It was kind of stressful," she says of her childhood, "but it helped me to have an open mind. Everyone has something special about them, and I want to figure that out."
Her desire to connect with others was realized in an interpersonal communication class at the Texas community college where Foster earned her associate's degree. Although she was studying business at the time, she "fell in love" with communications and changed her course of study. She will graduate from ORU this year with a degree in the field and a minor in French.
Of all the things she loves about ORU, Foster points to its spiritual emphasis. "What other place do you have your peers all trying to get closer to God?" she says. "The culture of ORU encourages you to press into the Lord."
In high school, Foster wasn't familiar with ORU, but God used a family friend to lead her there in an unconventional way. When the friend shared that she dreamed Foster attended ORU, it was enough to convince Foster to visit. "I had no idea what this school was about," she recalls. "I was blown away."
Finances were a concern, especially because Foster and her siblings are close in age. For that reason, Foster's family was ecstatic when she received the Quest Whole Person Scholarship. "I am so grateful for the provision the Lord gave me through the scholarship," says Foster, whose younger sister is now studying social justice at ORU.
Foster stays busy with her classes and a job in the English and Modern Language Department, but she finds the most joy in the unofficial traditions of student life such as "roommate dates" with friends.
Although graduation is approaching, Foster still has a lot to experience through ORU. This summer, she will expand her passport and build on her language skills in a study abroad program in France. But first, she will travel to Sacramento, California, with ORU Missions. The trip's focus is ministering to the residents of a women's shelter.
"The university places such an emphasis on the community and world outside ORU," Foster says. "It's not just about getting a degree. It's all about, how is my degree going to affect the world and spread Christ?"
Foster isn't sure yet what her career will look like or where her degree will take her. But she knows God brought her this far and has her future planned out. "I try to rest in the fact that He knows what He's doing," she says.