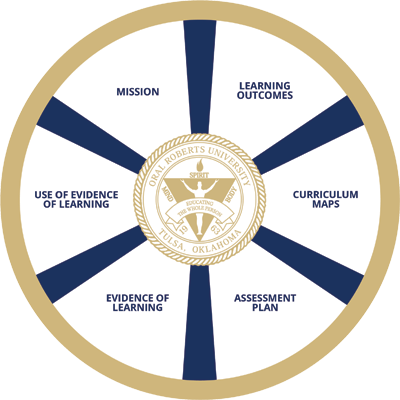 ORU has identified five institutional learning outcomes that align with its mission and purpose. They are: Spiritually Alive, Intellectually Alert, Physically Disciplined, Socially Adept and Professionally Competent. The College of Business (COB) has identified eight learning outcomes that are shared across all undergraduate majors and that support the institutional learning outcomes. These eight mission aligned outcomes are: Technical Knowledge, Oral and Written Communication, Problem Solving, Critical Thinking, Information Literacy, Global Perspectives, Teamwork and Professionalism. The institutional Alignment is provided in a document below.
Throughout the assessment process, ORU and the COB have identified the need for learning outcomes at a more granular level in each COB major, minor and concentration for both the graduate and undergraduate programs. The outcomes were just recently developed and are identified as proposed COB learning outcomes different from the current COB learning outcomes.
For the "proposed" learning outcomes, there will be shared learning outcomes and outcomes specific to each major/minor/concentration. After researching industry requirements and reviewing mission directives, the COB identified those outcomes that should be retained as shared outcomes across all majors. A plan for measuring and assessing these outcomes moving forward will be provided.
Online Programs
The COB is experiencing growth in its online programs. As undergraduate programs are implemented, the outcomes for the online programs will be developed with attempts to mirror the outcomes for the residential programs. At the graduate level, learning outcomes for the recently developed Leadership MBA (LMBA) have been developed and assessment has begun. A plan for measuring and assessing these outcomes moving forward will be provided.
UNDERGRADUATE PROGRAM LEARNING OUTCOMES
Graduate Program Learning Outcomes