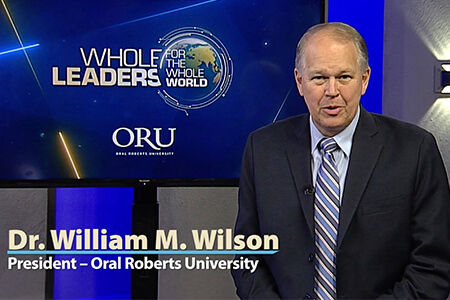 Summer School Session 3 Countdown

ORU Students: keep your momentum going with summer school!
For 2020, ORU is discounting regular summer school tuition, offering four sessions of summer school, both in-person and virtually! Those session dates are:
May 11-29

June 1-19

June 22 - July 10
July 13-31
Wondering what courses you can take? There are plenty of great classes available, so head to Vision and click on "Summer Schedule". Don't see what you want? Fill out this form and let us know what you're looking for! (Classes that become eligible will be available during one of the summer sessions, to be determined by the Registrar as best fits the overall course schedule.)
Don't know which course(s) you should take? Consult this list of faculty Academic Advisors to help guide your decisions or this list of our most popular selections.
The most recent Virtual Academic Advisement Webinars is available to view here. For our previous session, view a recorded version here.
Any undergraduate Summer School class can be taken for $500 per credit hour (a 37% reduction from the regular rate of $794 per credit hour). If 9 summer school hours are taken cumulatively during any of the on-campus summer sessions, the cost per credit hour will be reduced to $450.00 per hour ($4,050.00 for 9 hours). If at least 10 hours are taken during any of the summer sessions you will receive a free dorm room. Graduate students are eligible for the free dorm room with only 9 hours.
Every summer school course will be taught either virtually and/or in-person if possible (given applicable health restrictions). Any lab classes will be taught in the NEC building or the GLC, and all lab sessions will be available virtually as well. It is anticipated that most classes will be held in the GLC.
Anyone who wishes to take part in an undergraduate summer school experience is eligible for the discounts. If you're interested and were not enrolled at ORU in the Spring 2020 semester, connect with an Enrollment Counselor in the Office of Undergraduate Admissions at admissions@oru.edu or call 918.495.6518.
Federal financial aid may be available for your summer school enrollment of six hours or more. If you filed the FAFSA for 2019-2020 and received federal financial aid for the fall/spring semesters, no additional application is required.
The ORU Financial Aid Office will review the summer enrollment of every current federal aid recipient and notify you of your potential federal grants or loans via ORU email and Vision. Aid available includes the Federal Pell Grant, Federal Direct Student Loans, Federal Direct Parent Loans, and Oklahoma's Promise Grants.
All federal aid requires a minimum enrollment of six summer credit hours to qualify.
If you are a US Citizen or Permanent Resident and have not previously filed the FAFSA online for the 2019-2020 academic year, the form is available at www.fafsa.gov until June 30, 2020. Newly submitted FAFSA information will be sent to the Financial Aid office electronically by the US Department of Education within 3 business days, and you will be included in the next group of students reviewed for federal aid eligibility. If you need assistance completing the form or have questions about federal financial aid for summer, our Financial Aid Representatives are available to help you at 918-495-6510 or ORUFinaid@oru.edu
Online classes count toward the summer housing discount so long as at least 50% of the courses you take are residential, meaning that they are summer school or graduate modular course offerings as opposed to online offerings. If you're planning to incorporate some online courses into your summer, please remember that the start date for Online session A is Monday, May 4.
Any class that is in the University catalog is eligible to be added with an enrollment of at least five students. Some of the more popular classes available include practical courses like Principles of Management and Principles of Economics in the College of Business, Composition II and Modern Western Civilization in the College of Arts and Cultural Studies, Surveys of Old Testament and New Testament Literature in the College of Theology and Ministry, and Essentials of Biology in the College of Science and Engineering, a great first step for those who are interested in going into fields of healing like nursing or pre-med.
To request a class, use this form. To see a browsable PDF of the complete 2019-2020 University catalog, visit this page.
Once the requested class has been reviewed, a faculty member has been assigned, and five students have committed interest in enrollment, then the class will be added to the Vision options for the summer sessions and the student will be notified how they can enroll.
All Summer Classes (Sessions 1-4) are classified as "Residential" but will be held on-campus and virtually this summer. Students can attend and participate via face-to-face or through "Zoom". The University does not need to know beforehand which attendance method you will select.
University housing will be available over the summer. The cost of a room for the entire summer ($1800) will be waived for those who enroll and complete all four sessions of summer school. A summer-long meal plan will also be available at a cost of $1600, which includes eight meals per week and $500 in Sodexo bucks.
If you do not sign up for all 4 sessions, the cost of a room is $20 a night, with a meal plan available for an additional $400 per session. That includes (per session) 8 meals per week and $125 in Sodexo bucks.
Chick-fil-A will be open for lunches Monday-Saturday, with the cafeteria open for dinner all 7 days and lunch on Sundays. Students are responsible for providing their own breakfast.
Should you choose not to sign up for summer school but wish to remain on campus, the cost of the room will be $1800, with a summer-long meal plan available for an additional $1600.
Meal plans are optional; however, we highly recommend you select one for convenience and to reduce your need to travel off campus.