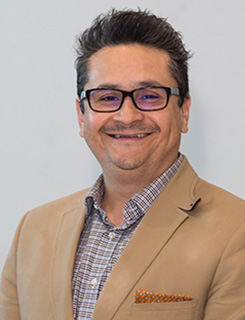 Victor Cárdenas, a native of Mexico City, moved to the United States and pursued his education at Midwest Bible College, where God placed a strong calling on his life to reach out to youth. Following his graduation from Midwest in 1990, Victor used all of his time to fulfill this dream.
As a co-founder of CanZion Producciones, established in 1994 in Houston, Cárdenas developed and promoted more than 20 best-selling music projects throughout Latin America and Spain. CanZion became the largest Christian music company in the United States and Latin America.
Cárdenas founded "Otra Onda Inc.", a non-profit ministry with the focus of world youth evangelism and education. During the last 15 years, millions of youth throughout the United States, Latin America and Europe have been touched by this ministry.
Cárdenas is founder and lead vocalist of the Christian rock band, "Zona 7." As an executive producer in the music industry, his achievements include five cooperation projects with Vida Music/Zondervan and four recordings with Zona 7. Victor founded Otra Onda Radio, which broadcasted in 27 countries and more than 450 radio stations, reaching millions. With a great impact among the Hispanic communities in the United States, Otra Onda has been recognized by the White House as an important organization bringing positive changes in the youth. With more than 29 years of ministerial experience in the Hispanic community in the United States and Latin America, Victor continues to be an essential part in the lives of many young people. Today he is the CEO of El Centro Network a 501(c)(3) dedicated to promote digital Bible Engagement in Spanish.
With a passion to help end Bible poverty, Victor and his wife have established several successful Kingdom business models that fund his non-profit work and God's Kingdom. Cardenas owns, manages, and invests in companies from numerous industries, ranging from oil field development to industrial equipment sales and sustainable agriculture products.
Cárdenas served on the Board of Trustees of American Bible Society for 12 years. Currently, he serves as a board member of Clay Student Leadership and is co-founder of El Centro the Woodlands Church, where he and his wife serve as administrative pastors.
Victor and his wife Areli have been married over 21 years and have three beautiful sons: Esteban, Jonathan and Carlo.