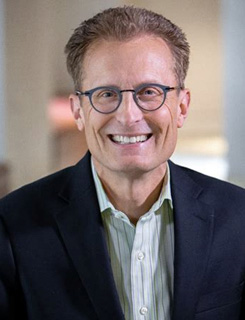 Mart Green (Trustee Emeritus) began his retail career in the home of his parents as a youth. With $600 his family started Hobby Lobby in their living room, now a chain of over 500 arts and crafts stores. He serves as the Chief Strategy Officer for the Green Family Businesses and is the Board Chair of Hobby Lobby. In 1981, Mart established Mardel, a chain of Christian and educational supply stores. Headquartered in Oklahoma City, Mardel has 35 stores in seven states.
In January 2005, Christian Retailing named Mart Green one of the Top Fifty People who have most impacted and shaped Christian retailing in the last half century. In 2008, he was also awarded the Jim Carlson Christian Bookstore of the Year Award by the Christian Book Association (CBA) for setting standards of excellence in the industry.
In June 2002, visionary Green founded and was Producer/CEO for Every Tribe Entertainment, a feature film production company. Their movie End of the Spear was released to theaters in January 2006. Millions in the U.S. viewed End of the Spear with great impact, and is now being shown in many countries around the world.
In January 2008, Mart became Board Chair of the Board of Trustees at Oral Roberts University (ORU). ORU was one of five institutions to be selected for the 2007 Council for Higher Education Accreditation (CHEA) Award for Institutional Progress in Student Learning Outcomes. CHEA is an association of 3000 degree granting colleges and universities.
In 2010, Mart started a journey to build a Digital Bible Library through an alliance called Every Tribe Every Nation. Its goal is to centralize, digitize, standardize and finalize the Bible texts of the world. This will make it easier for audio, video, mobile and print-on-demand ministries to get the Bible texts that they need. It is Mart's belief that all 6000+ languages can have a New Testament finalized and digitized in his lifetime.
In November 2015, Mart was honored to be elected to serve as a Trustee Emeritus on the Oral Roberts University Board of Trustees.
A native Oklahoman, Mart and his wife, Diana, have enjoyed over 30 years of marriage. They have 4 adult children and 4 grandchildren.