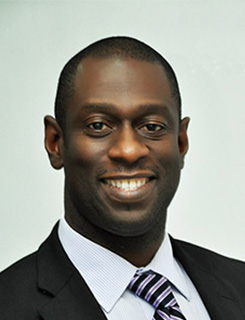 Rt. Rev. Faith Emmanuel Benson Idahosa II, popularly known as Bishop FEB, is a prominent minister of the gospel, professional educator, and a reputable entrepreneur.
He holds a Bachelor of Science degree in Biology and a Bachelor of Arts Degree in Business Administration from Oral Roberts University, Tulsa, Oklahoma, USA. He also has a Masters' Degree in Public Health and is currently a Doctoral candidate for Educational Leadership at Oral Roberts University, Tulsa, Oklahoma, USA.
Bishop FEB Idahosa has been the President of Benson Idahosa University (BIU) since April 15th, 1998, and his active work and hands-on experience in the educational sector spans over twenty (20) years. He is the proprietor of Nathan American Academy, proprietor of the Benson Idahosa School of Basic and Applied Studies, and the Vice President of All Nations for Christ Bible Institute International.
Outside of the field of education, he sits on the board of Pathfinders Justice Initiative, the board of the International Communion of Charismatic Churches, and is a member of the Edo National Association, USA. He is the President of Big Ben's Children Hospital, Vice President of Faith Mediplex Group of hospitals, Vice President of the Archbishop Idahosa Foundation, and Idahosa World Outreach.
As an entrepreneur and businessman, Bishop FEB is the Chairman of the Above Only Group, Pear Systems Development Company, DFI Nigeria, DFI U.S.A., Rejuvenate Media, and Benson Idahosa Property Development Company. These reputable establishments are thriving in their various areas of expertise, providing services within and outside Nigeria.
As a minister of the gospel, he is the Overseer of Church of God Mission International (CGMi) and is the bishop of the global headquarter church of the ministry (Faith Arena) and he leads the global bishopric of the church. He is a member of the CGMi Council of Bishops as well as its Board of Administration.
In all of these responsibilities, Bishop FEB functions in excellence and Godly professionalism. He is an inspirational leader who is dedicated to people development and societal transformation. He is a sought-after speaker for church events, leadership and inspirational conferences, and business/entrepreneurial seminars. He combines a mix of humility, vision, and innovation to groom and empower the next generation of leaders in ministry, family, business, career, politics, and other facets of society.
Bishop Feb is also a business facilitator and instructor, teaching success strategies for Nigerian startups under the moniker, @Marketplacefeb.
He is an author of six books, the loving husband of Rev. Laurie Whetstone-Idahosa, and father of three – Feb Jnr, Nathan and Judah.