Jazzman's Cafe and Bakery is a fun and tasty bistro in the student center, ready to meet all of your caffeinated needs. Charge up with a latte, cappuccino, mocha, espresso, café au lait, or plain ol' cuppa joe. Blast off with a mocha, caramel, white chocolate or Tuxedo Blast! Take a visit to the Republic of Tea.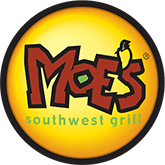 Moe's Southwest Grill makes Mexican and Tex-Mex comfort food that will have your taste buds say "Gracias!"
Do you know what John Coctostan and Wrong Doug are? They are just a couple of the burritos, quesadillas, tacos, nachos and salads you can devour at Moe's Southwest Grill (located, ironically enough, in the northeast part of the Hammer Center…).