ORU's New Welcome Center is an Inviting "Front-Door" to Visitors

Pictured front row (left to right): Lead Donors Jim and Donna Stuck, Lt. Governor Matt Pinnell, ORU Board of Trustees (BOT) Secretary Dr. LaDonna Osborn, ORU President Dr. William Wilson, ORU First Lady Mrs. Lisa Wilson, Mayor G.T. Bynum, and ORU Assistant VP of Enrollment Management - Residential Alison Vujnovic. Pictured back row (left to right): BOT Board Member Gordon Helm and Alumni Board Chair Cory Nickerson.
Tulsa, Okla.—On Wednesday, September 14, 2022, Oral Roberts University (ORU) held a ribbon-cutting for the grand opening of its new Welcome Center. The Welcome Center, located at the University's west entrance, is ORU's "front door" – the place to welcome visitors, arrange tours and learn more about ORU's rapidly expanding campus.
"Everything we do at ORU is for the student," said ORU President Dr. William M. Wilson. "This new Welcome Center centralizes admissions and veterans' services in a single point of entry. This is where a student's journey begins, and in this facility, our commitment to their success is evident. Our guests will quickly be able to know who we are, what we are about, and what makes ORU unique."
With God's provision and donor support, including a lead gift from alumni Jim and Donna Stuck, the new Welcome Center becomes the first of four new buildings in the current construction phase. Housed within the Welcome Center are offices for ORU's enrollment team, providing convenient access for prospective students to meet with admissions counselors. The new building will also feature a Golden Eagles Fan Shop.

ORU President Dr. William Wilson
"The opening of the Welcome Center signifies a vision come to life," said Alison Vujnovic, ORU Assistant Vice President of Enrollment Management – Residential, ''where we will see thousands of students walk through our doors to experience why all 50 states and over 140 nations call ORU home."

Lt. Governor Matt Pinnell
The Welcome Center will also house ORU's Veterans' Experience office, a dedicated venue designed specifically for veteran students. The staff will provide students access to military-education benefits, degree information, and post-graduate employment assistance.
"The Veterans' Experience is a five-tiered, cross-functional approach," said Will Beck, ORU Director of Veteran Experience, "that encompasses the student's journey before setting foot on campus or in a virtual classroom until they graduate. We start by casting out our nets, connecting with them, providing assistance, maintaining contact throughout their time here, and ultimately their commencement and status as an ORU alumnus within the ORU family."
Located directly south of the ORU's iconic Healing Hands, the Welcome Center is a two-story structure consisting of 13,774 square feet of office and administrative spaces. The Center features insulated metal panels located on the south and east side of the building, a radiused curtainwall façade with Pacifica clear glass, and LED light fixtures throughout. The $6 million project is part of Phase 1 of ORU's Whole Leaders for the Whole World (WLWW) campaign.
The WLWW campaign has provided a catalyst for ORU's growth as a leadership university. Two additional buildings are currently under construction: a Media Arts Center and a high-tech library that will house ORU's world-renowned Holy Spirit Research Center.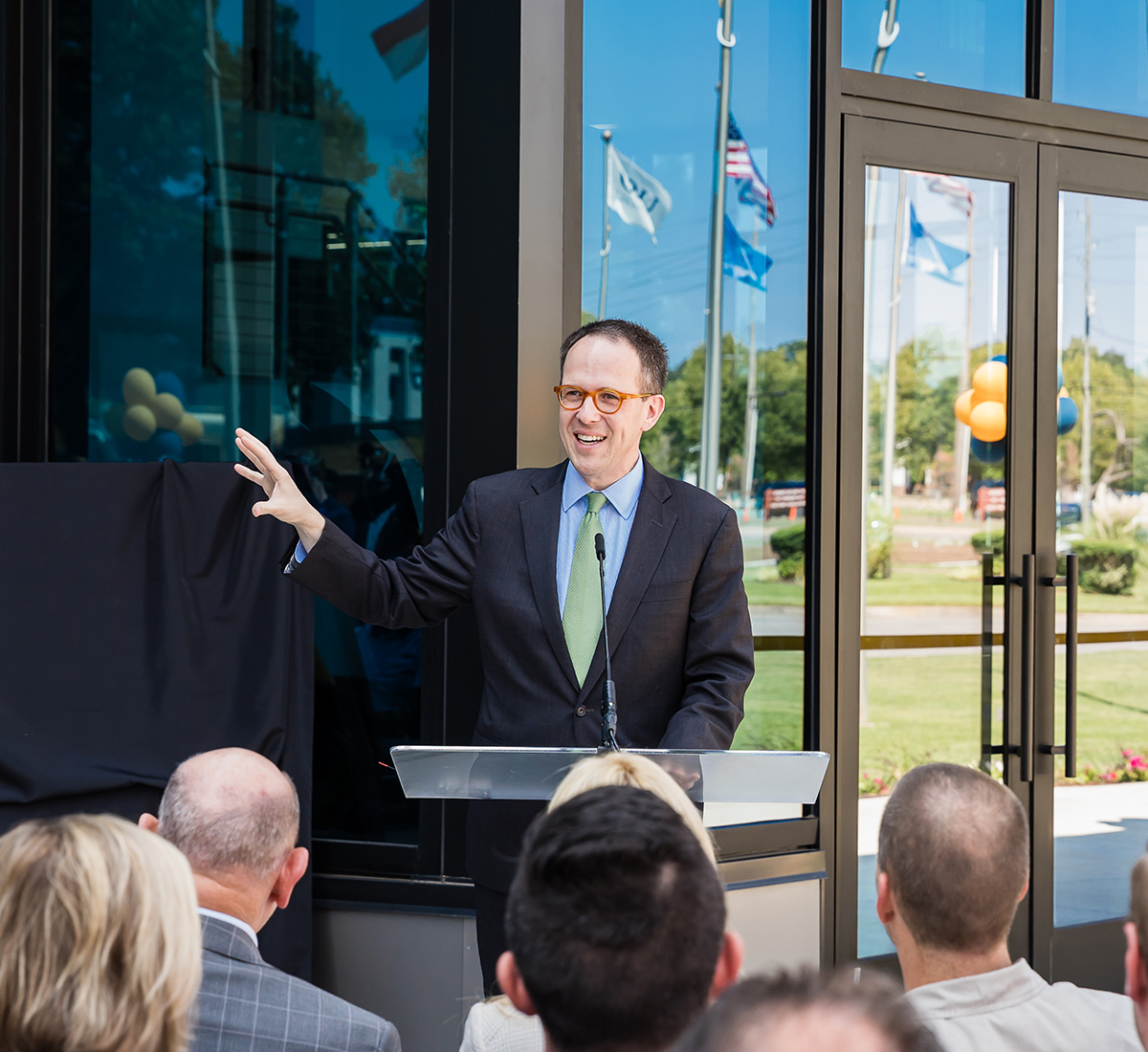 Mayor G.T. Bynum
The new buildings will add innovative technologies, academic programs (both residential and online), and faculty resources to prepare Spirit-empowered leaders for global engagement. Also currently under construction is a fourth new building: the Mike Carter Athletic Center.
ORU appreciates the architectural firm of KSQ Design and Thompson Construction, Inc. for their efforts in the Welcome Center project.
Please click here to learn more about the Whole Leaders for the Whole World campaign.
ABOUT ORAL ROBERTS UNIVERSITY
ORU is a Christian, Spirit-empowered, interdenominational university in Tulsa, Oklahoma, with over a decade of consecutive enrollment growth. Regionally accredited by the Higher Learning Commission, ORU offers over 150 majors, minors, concentrations, and pre-professional programs at the bachelor's level, ranging from business and engineering to nursing, ministry, and more. Under the leadership of President Dr. William Wilson, ORU is preparing students from all 50 states and 142 nations to be whole leaders for the whole world.
The Wall Street Journal ranked ORU as the #4 university in the nation for student engagement. This ranking is based upon faculty interactions, collaborative learning, critical thinking, real-world applications of student learning, the extent to which classes challenge students, and whether students would recommend a university to others. Niche recognizes ORU as one of the most diverse colleges in America.
ORU has been ranked by U.S. News & World Report as:
#1 in Undergraduate Teaching
#2 in Most International Students
#3 in Best Value
#6 in Best College for Veterans
#7 in Best Regional Colleges in the West
For more information, visit www.oru.edu.