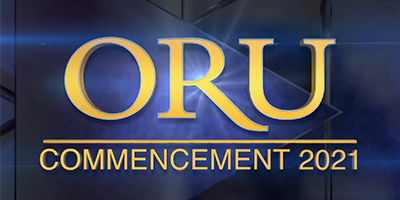 COMMENCEMENT 2021
Congratulations, ORU Graduates! We are excited to celebrate your accomplishments and look forward to seeing how you will change the world as Spirit-empowered leaders!
COMMENCEMENT PHOTOS
Candid Color Photography is our official photographer for our commencement ceremony. Graduates, please click the link below to register your contact information with them. This will ensure that your photographs will be identified to your name and you will receive a link after the ceremony, within 24hrs, to view your images. You will receive an email/test confirmation of your registration. You only need to register once. If you have any questions about the registration or registration process, you may contact them directly at 405-951-7300.
Register for 2021 Commencement Photos Here
SUMMER GRADUATES
(Conferral date of August 31, 2021)
If you will have 6 hours or less of courses remaining to take in Summer 2021 and wish to participate in Commencement, you MUST petition to Participate in Commencement no later than April 1st, 2021. The petition is available on the petitions.oru.edu website. Your petition should clearly state which courses you will be completing after commencement and show proof of enrollment in these courses. In order to participate in commencement with outstanding requirements, approval is needed by your major department, college, the Office of Institutional Effectiveness, and the Registrar's Office.
FALL GRADUATES
(Conferral date of December 12, 2020)
If you were planning to finish all degree requirements during the fall 2020 semester, you should submit your application to graduate by December 1st, 2020.
You will be kept up-to-date on Commencement and Rehearsal as well as additional pertinent information concerning graduation as it becomes available. Please be sure to update your address and phone information at the end of the fall semester. Also, be sure to continue to check your ORU email account as that is where information will be directed.
PRIOR-TERM GRADUATES
If you have completed all degree requirements in a previous term but do not have an active application to graduate on file, please contact clambert@oru.edu to complete an application manually.
Graduation Application Processing Fees
A $50 fee is charged to all students graduating with a bachelor's degree and $63 for a master's degree and Ed.S. The fee for doctoral students is $75.
The graduation application processing fee is non-refundable for candidates who had planned to graduate in the spring but fail to submit requests to withdraw the application in writing by April 1. Candidates who are completing their course work in the fall must withdraw their application no later
than December 1. If, for any reason, a candidate does not complete a degree program by the anticipated graduation date, the student must complete any deficiencies by August 31 of that year or
they will forfeit their diploma fee and be required to submit a new application.