welcome to oru!
We're so glad you're here today to walk ORU's campus. Use the map below to guide you in the right direction as you learn more about what makes our University so special. Your tour will take about thirty minutes to complete.
TOUR ROUTE
Follow the map and enjoy the tour!
STOP #1
LEARNING RESOURCES CENTER / GRADUATE CENTER
Welcome to the John D. Messick Learning Resources Center (LRC) and The Marajen Stevick Graduate Center (GC). Inside you'll find undergraduate and graduate classes and departments for almost every major, our commuter lounge, Veterans' lounge, library, Hall of Mirrors, lecture halls, food establishments, Student Accounts, Financial Aid, Admissions, Registrar, the ORU bookstore, and much more!
All done at the LRC and GC? Head straight out and towards the right, and be on the lookout for the Armand Hammer Alumni Student Center. As you walk along the sidewalk, you'll see gardens and the Prayer Tower on your left. You're headed in the right direction! Once you've reached the white building, you've made it!
---
STOP #2
ARMAND HAMMER ALUMNI STUDENT CENTER
For students, this is the place to be! Grab a bite to eat, play a round of pool or watch TV on the big screen. While this is one of the main hubs for students to hang out, it also houses Student Association, Moe's Southwest Grill, Jazzman's Coffee, and the office of Alumni Relations.
Ready to explore the next stop? Head around to the back of the Armand Hammer Alumni Student Center where you will see outdoor courtyard. From this spot, you'll see Lake Evelyn.
---
STOP #3
AEROBICS CENTER / JL JOHNSON BASEBALL STADIUM / TRACK AND FIELD
Here is a snapshot of some of our Athletics buildings. The Track and Field Complex, Tennis Courts, and JL Johnson Baseball Stadium—home of the Golden Eagle baseball team—are straight ahead. The Aerobics Center, off to your right behind the trees, facilitates ORU's Whole Person Education. This is where you'll find many physical discipline classes such as weightlifting, badminton, racquetball, and more. Aside from classes, the facility has an indoor track, four full-sized basketball courts, three racquetball courts, a spin room, swimming pool, weightlifting areas, and a dance studio, and houses all Women's Golden Eagle Volleyball and indoor intramural games.
It's time to see where our students live! Follow the sidewalk towards the towering beige buildings. Continue along the path up the hill the to table outside the dorms.
---
STOP #4
ORU'S RESIDENCE HALLS
ORU has several dorm complexes around campus. Here are the Towers residence halls, consisting of four in total: Susie Vinson Hall, Susie North Hall, Frances Cardone Hall, and Michael Cardone Hall. Coming up shortly, you'll see a few more residence halls and ORU's newest addition, Niko Hall!
Ready to see some of our Arts facilities? Head out from Towers and walk across the parking lot. Once you see the building labeled "Hamill Center," which houses the student dining hall, go around the left side toward the back. As you walk, you'll notice our freshman residence halls, Claudius Roberts Hall and Ellis Melvin Roberts Hall, on your right and left. Up ahead, you'll notice the Hamill Center and on your way towards Timko Barton.
---
Stop #5
TIMKO BARTON / HOWARD AUDITORIUM
The beautiful stone and glass building ahead is Timko Barton, one of ORU's original buildings, first built in 1965, and home to the first cafeteria and classrooms. Towering behind Timko is a building that may resemble a giant golf ball, igloo, or even Epcot Center™, but little can you tell, it houses ORU's theatre, opera, drama, and dance performances. This is Howard Auditorium! It seats 1,000 people for classes, theatrical productions, and dance performances. On the other side of Howard is Gabrielle Christian Salem Hall, a residence hall for women.
Once you're ready to move on, follow the path toward the left of Timko Barton. As you walk, you'll see fountains, gardens, and the Prayer Tower directly in front of you. Find the next stop at the crossroads just past Timko Barton.
---
STOP #6
PRAYER TOWER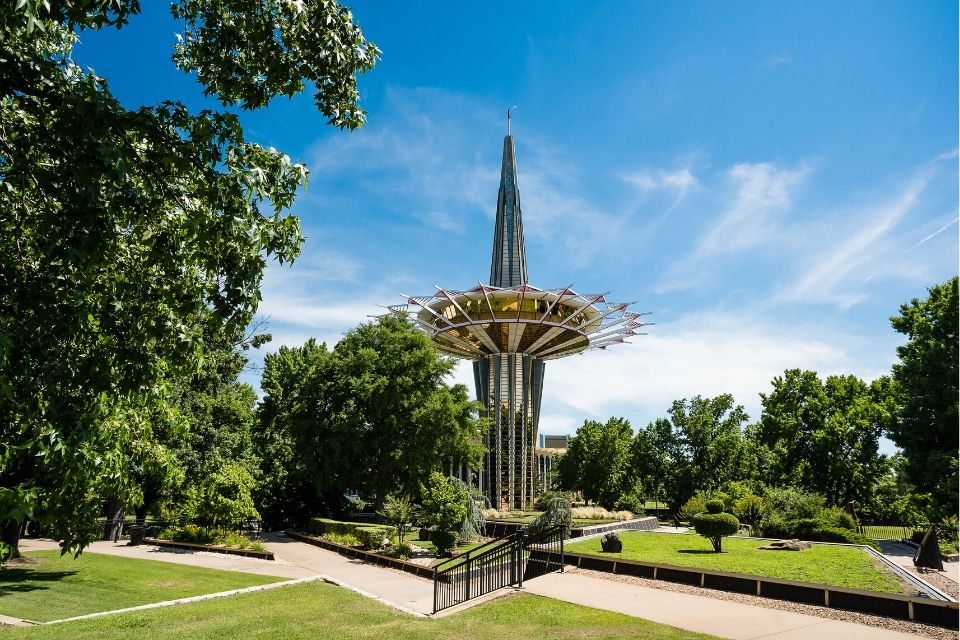 Take a picture! Before heading to your last stop on the tour, take a minute to document your visit to campus in front of the focal point of our campus, the Prayer Tower. Don't forget to post on social media! Follow and tag us @headedtoORU.
Once you're finished, keep following the path away from the dorms and toward the white and glass chapel building. As you walk, you'll see ORU's apartment-style residence hall, Niko Njotorahardjo Hall—lovingly called "Niko." Just beyond Niko is where ORU has plans to build a state-of-the-art Media Arts Center (MAC), a new technologically-driven library, and a Welcome Center. Look for the final destination near Christ's Chapel.
---
STOP #7
CHRIST'S CHAPEL

Welcome to Christ's Chapel. Twice a week, we gather as a community here to worship together. The sanctuary seats 3,500 and the building is home to the offices of ORU Worship, Music Missions, and Missions and Outreach.
You've made it to the last stop! Feel free to explore either side of the Prayer Gardens and take a look around. Thank you for joining us! We hope you got a taste of who we are and why ORU is so special. Click below for a closing message.
---
BONUS STOPS
PRAYING HANDS STATUE
Did you know the Praying Hands statue is 60 feet high and weighs 30 tons? It's true! We encourage you to park in the lot to your left and snap your photo in front of the Praying Hands statue. Don't forget to post on social media! Follow and tag us @headedtoORU.
---
NURSING & ENGINEERING COMPLEX
This facility is the home to the Nursing and Engineering department right across the street on the southwest corner of 81st Street and Delaware Avenue. ORU's golf team is also housed here with a new state-of-the-art facility.
---
Now that you've completed the tour, are you wondering how much you know about ORU?
Try your hand at these fun facts and see how many you can right!
---
QUESTIONS?