With Dreams of the Big Screen, ORU Theatre Student Max Garrett is Growing as an Actor
Thomas "Max" Garrett
Hometown: Tampa, Florida
Area of Study: Theatre Arts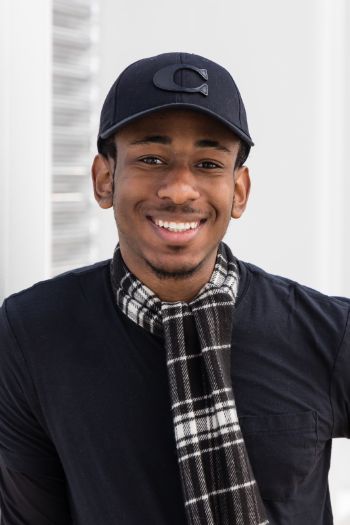 A love for acting started early for ORU freshman Thomas "Max" Garrett. What began as a hobby expanded into a passion for performing onstage and an aspiration for film. Before coming to ORU, Max discovered a love for Shakespeare and performed in multiple productions, including A Midsummer Night's Dream, Hamlet, The Merchant of Venice, and Henry V.
"When I arrived at ORU," Max said, "I felt like the Lord was broadening my horizons. I want to do as much as possible with the gifts I've been given, so I not only want to pursue voice acting but film acting and theatre too. Being at ORU has reassured me that this is what God has called me to do."
Max's first role at ORU was in The Crucible, and he will soon perform in his first musical, ORU's spring production of Into the Woods. Eventually, Max wants to perform in Hollywood or on Broadway, and to get there, ORU Theatre has taught him that everything done on stage—down to every movement—must be done with a purpose.
"When we act," Max said, "we're not pretending to be someone else; we become that person and bring our hearts into the character. That's helped me grow and understand acting in a whole new way."
"I want to do as much as possible with the gifts I've been given, so I not only want to pursue voice acting but film acting and theatre too. Being at ORU has reassured me that this is what God has called me to do."
Thomas "Max" Garrett
Finding a College Family in ORU's Diverse Culture
Students worldwide come to ORU's multicultural campus to receive a whole-person education. Ranked by Niche amongst the top universities in America for diversity, ORU is where Max feels he truly belongs. Max has grown as an actor at ORU and has found a family in the University's diverse community.
"When I first came to ORU, I saw how talented the performers are, and I started to question if I should pursue acting," said Max. "But everyone here encouraged me and made me feel like I'm part of a family. Having people who share the same passion as me is motivating, and seeing everyone focused on their goals is inspiring. I feel like this is where I belong, and I wouldn't want to be anywhere else."
How Max's Faith Influences His Performance
As an actor, Max's faith influences how he approaches every performance. For him, acting is a form of worship. At ORU, students learn in an environment where they are trained to be Spirit-empowered leaders in their field of study. In the classroom, Max is growing and learning how to apply his faith as a leader and as a performer.
"For me, acting is a form of worship, and I can feel God moving when I'm on stage," said Max. "Everything we do, we do for the glory of God, and our faith plays into it. At ORU, my faith and my confidence have grown. I'm growing in my mind, body, and spirit, and I want to take this wherever God calls me to go in the arts."
Whether it be Hollywood or Broadway, Max doesn't want to minimize his faith as he pursues a career in acting. As an artist, performing is important to him, but for Max, faith will always come first.
"I have conversations with people about taking our gifts into the world," said Max. "I know the world won't always receive my faith, but I won't put a price tag on that. I want to be someone who influences the acting community in a positive way. I want to bring my faith with me and show others that you can be a good actor and be successful without compromising your morals."
ABOUT ORAL ROBERTS UNIVERSITY
ORU is a Christian, Spirit-empowered, interdenominational university in Tulsa, Oklahoma, with over a decade of consecutive enrollment growth. Regionally accredited by the Higher Learning Commission, ORU offers over 150 majors, minors, concentrations, and pre-professional programs at the bachelor's level, ranging from business and engineering to nursing, ministry, and more. Under the leadership of President Dr. William Wilson, ORU is preparing students from all 50 states and 142 nations (from 2019 to 2022) to be whole leaders for the whole world.
The Wall Street Journal ranked ORU as the #4 university in the nation for student engagement. This ranking is based upon faculty interactions, collaborative learning, critical thinking, real-world applications of student learning, the extent to which classes challenge students, and whether students would recommend a university to others. Niche recognizes ORU as one of the most diverse colleges in America.
ORU has been ranked by U.S. News & World Report as:
#1 in Undergraduate Teaching
#2 in Most International Students
#3 in Best Value
#6 in Best College for Veterans
#7 in Best Regional Colleges in the West
For more information, visit www.oru.edu.