Leading ORU's Nationally-Recognized Student Section: How Rylee Peyton Carter Helped Create and Build "The Nest"
Rylee Peyton Carter
Hometown: Tulsa, Oklahoma
Area of Study: Healthcare Administration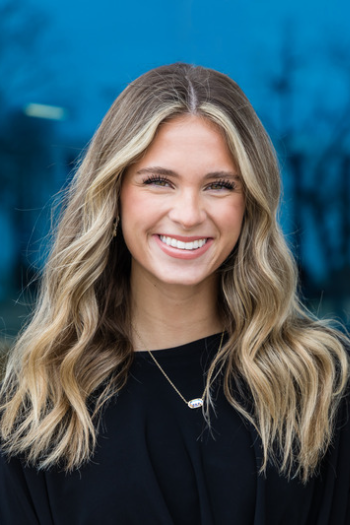 The moment was historic for ORU. In 2021, the ORU Men's Basketball team defeated Ohio State and then Florida to make the Sweet 16. By advancing, ORU became only the second 15-seed ever to advance to the Sweet 16. School spirit was at an all-time high, motivating a small group of student leaders to approach the Athletic Department about starting a new fan section. One of those students was ORU junior Rylee Peyton Carter.
"At the time," Rylee said, "I was only a football fan, but things have changed since then. With all the school spirit on campus, I began watching ORU basketball. After the Sweet 16, there was a big jump in excitement. Today, everyone's walking around campus asking, 'When's the next game?' It's something I hear all the time."
From that small group of students and their meeting, ORU's student section—"The Nest,"—was born. Since then, The Nest has grown into one of the most exciting student sections in the country, having been named the "Best Basketball Atmosphere in The State of Oklahoma." Much of this success can be attributed to Rylee's leadership as The Nest's first president.
"Students are what really separate and make college athletics unique," said ORU Athletic Director Tim Johnson, "and The Nest has taken things to another level! Their voice and presence are critical in supporting our teams at games and matches. Not only is their presence felt at basketball, but they are a vital part of the success we've seen in soccer, baseball, volleyball, and all of our teams that compete on campus."
"The Nest is loud and exciting," Rylee said, "and it's something a lot of students are drawn to. The Sweet 16 helped shift the culture on campus. We're still a community of students who are pursuing their relationship with Jesus, but we're also loving ORU for the school spirit and athletics. It's setting us apart as a university because not only does The Nest give students something to belong to, there's also an energy that makes the games fun to attend."
"The Nest is loud and exciting," Rylee said, "and it's something a lot of students are drawn to. The Sweet 16 helped shift the culture on campus. We're still a community of students who are pursuing their relationship with Jesus, but we're also loving ORU for the school spirit and athletics."
Rylee Peyton Carter
Opening the Door to ORU
As a lifelong sports fan, athletics was something Rylee thought about when choosing a college. Initially, she looked at several large, public universities, searching for an academic challenge but also for a place where the school spirit was high. However, Rylee's high school counselor asked her to also look at ORU.
"You don't really realize what college is going to be like until you go," Rylee said, "and my counselor thought I'd really like ORU because it lined up with what I truly needed. I wanted to be where God wanted me to be, but I didn't know where that was. After I applied, ORU was persistent in pursuing me, and I felt like they actually wanted me."
Eventually, Rylee narrowed her college choices down to ORU and two other universities. At the time, Rylee was being considered for ORU's full tuition Quest Whole Leader Scholarship, which recognizes exceptional students who are committed to developing a healthy, character-driven lifestyle. As she waited on ORU's scholarship offer, Rylee struggled with her college decision.
"I still wasn't sure where I wanted to go," Rylee said, "so I asked God to open every door He wanted me to go through and to close the doors that weren't for me. Literally, the next day, I got a call from ORU letting me know that I'd been awarded a full tuition scholarship. I started crying on the phone. I thought to myself, 'This is the Lord working.'"
Uniting ORU's Diverse Community
The door that God opened brought Rylee to a growing university, one that's seen enrollment increase for 14 straight years and which officially exceeded 5,000 students in fall of 2023, setting an all-time enrollment record. At the same time, ORU is in the middle of a historic expansion, adding four new buildings over the next two years, with several more additions to follow. Despite all this growth, Rylee describes the ORU campus as tightly connected while, at the same time, extraordinarily diverse.
"When I'm walking across campus," Rylee said, "ORU's big enough that I see people I don't know and small enough that I always see someone I do know. Our campus feels connected, and our community is diverse. There are people from different backgrounds, different denominations, different countries … no one's the same. Everyone on this campus has a unique story, and everyone's just so different."
Bringing these different students together … it's something Rylee's contributing to as president of The Nest. With its growing reputation, more and more students are joining The Nest, helping to produce a one-of-a-kind game day experience. This year, ORU Men's Basketball went 27-4 in the regular season and was the only team in America to go undefeated in conference play. Part of this success can be attributed to The Nest, which helped pack ORU's Mabee Center, making it one of the most intimidating venues in The Summit League.
"I want The Nest to carry on 20 years from now," Rylee said. "This is the start of something incredible, and it's important because The Nest offers a place where students can belong. So much of college is about connecting with people, and ORU offers so many ways to connect, whether it be the Student Association or ORU Worship or The Nest, or whatever it is you love. Get involved somehow … that's the advice I'd give to every single student who comes to ORU."
ABOUT ORAL ROBERTS UNIVERSITY
ORU is a Christian, Spirit-empowered, interdenominational university in Tulsa, Oklahoma, with over a decade of consecutive enrollment growth. Regionally accredited by the Higher Learning Commission, ORU offers over 150 majors, minors, concentrations, and pre-professional programs at the bachelor's level, ranging from business and engineering to nursing, ministry, and more. Under the leadership of President Dr. William Wilson, ORU is preparing students from all 50 states and 142 nations (from 2019 to 2022) to be whole leaders for the whole world.
The Wall Street Journal ranked ORU as the #4 university in the nation for student engagement. This ranking is based upon faculty interactions, collaborative learning, critical thinking, real-world applications of student learning, the extent to which classes challenge students, and whether students would recommend a university to others. Niche recognizes ORU as one of the most diverse colleges in America.
ORU has been ranked by U.S. News & World Report as:
#1 in Undergraduate Teaching
#2 in Most International Students
#3 in Best Value
#6 in Best College for Veterans
#7 in Best Regional Colleges in the West
For more information, visit www.oru.edu.