Finding the Right Fit: Why ORU Junior Mikayla McClary Changed Her Plans and Enrolled at ORU
Mikayla McClary
Hometown: Charleston, South Carolina
Area of Study: Political Science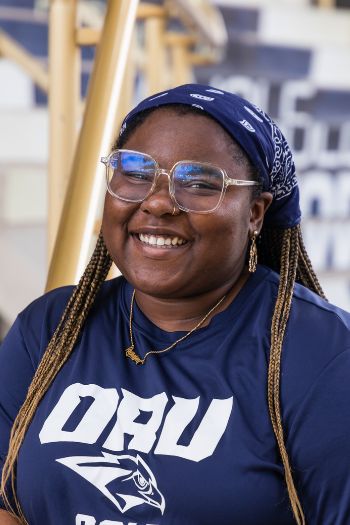 When selecting a college, students have different reasons for making their final choice. Whether it's the location, cost, or class size, their unique preferences help them determine the "right fit." ORU Junior Mikayla McClary thought her first choice for a university was the "right fit," but when she visited the campus, it didn't offer her the faith she was looking for.
"I'm an extrovert so I wanted to go to a big Christian university with a lot of people," said Mikayla. "I got accepted to one, but when I visited for college weekend, I felt spiritually stagnated. I immediately knew I wasn't supposed to be there."
Finding the "Right Fit" at ORU
While looking online for a new school, Mikayla found ORU, and though it wasn't on her initial list of colleges, she visited the campus and had a change of heart. With ORU's 17:1 student to professor ratio and tight-knit community, Mikayla found a home that's giving her what she was seeking in a university—a place to challenge her faith and an environment of fellowship that she describes as "a culture of unity."
"If I could go back," said Mikayla, "I would choose ORU over and over again. After my first visit, I can't really explain what I felt, but it was different. I knew I could see myself living here. I feel love and unity on this campus. It's a culture that sticks together, even for those who don't grow up in Christian households."
"If I could go back, I would choose ORU over and over again. After my first visit, I can't really explain what I felt, but it was different. I knew I could see myself living here."
- Mikayla McClary
Building a Family Through Instagram
Mikayla's love for ORU's culture comes from her passion for community and student engagement. This passion played an important role during Mikayla's freshmen year, when her class had trouble connecting because of COVID. Mikayla exercised her leadership to bring her class together, and with the help of a few friends, she connected incoming students through Instagram. This brought them together, and this type of unity is what Mikayla has continued to embrace in ORU's community.
"I just wanted to connect with classmates before Move-In Day," said Mikayla, "but I never expected the Instagram account to grow so quickly. Many of my classmates are good friends today because of connections that started on that page. It unified us, and it was a blessing because that's what I wanted—a family—and that's what we are."
Being Shaped by a Diverse Community
At ORU, Mikayla has the opportunity to do what she loves: connecting with different people. ORU offers a diverse community, with students from over 140 nations represented, and for 2023, ORU was recognized by Niche as the most diverse college in Oklahoma. With so many cultures to learn from, Mikayla has been expanding her borders, and in the future, she plans to step out into the world.
"At ORU, I'm getting international experience," said Mikayla. "I've been learning Spanish, and I plan to study abroad in Mexico. Wherever I go, I hope to make an impact that brings others together. As a political science major, that impact might come from crafting legislation or from an ambassadorship in Latin America. Making a difference and being a light, that's what I want to do for the rest of my life."
ABOUT ORAL ROBERTS UNIVERSITY
ORU is a Christian, Spirit-empowered, interdenominational university in Tulsa, Oklahoma, with over a decade of consecutive enrollment growth. Regionally accredited by the Higher Learning Commission, ORU offers over 150 majors, minors, concentrations, and pre-professional programs at the bachelor's level, ranging from business and engineering to nursing, ministry, and more. Under the leadership of President Dr. William Wilson, ORU is preparing students from all 50 states and 142 nations (from 2019 to 2022) to be whole leaders for the whole world.
The Wall Street Journal ranked ORU as the #4 university in the nation for student engagement. This ranking is based upon faculty interactions, collaborative learning, critical thinking, real-world applications of student learning, the extent to which classes challenge students, and whether students would recommend a university to others. Niche recognizes ORU as one of the most diverse colleges in America.
ORU has been ranked by U.S. News & World Report as:
#1 in Undergraduate Teaching
#2 in Most International Students
#3 in Best Value
#6 in Best College for Veterans
#7 in Best Regional Colleges in the West

For more information, visit www.oru.edu.