"Home Away from Home": What Freshman Josh Brennan Calls ORU
Joshua Brennan
Hometown: Shelton, Washington
Area of Study: Digital Marketing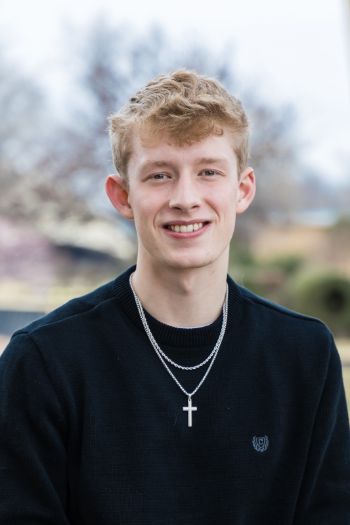 For some students, college is an adventure well beyond their own backyard, one that takes them thousands of miles away from friends and family. Emotionally, it can be tough, something ORU freshman Josh Brennan can easily attest to. Josh calls Washington State home, a 2000-mile journey from ORU's campus in Tulsa, Oklahoma. Like any college student, he says he misses home, but what he misses is also what he's found at ORU.
"Once I came to campus," Josh said, "I knew that God had called me here. The community felt like a family. It felt like a home away from home. At ORU, the students are warm and welcoming. There's a cultivated atmosphere of encouragement and Godly love for one another. The phrase 'iron sharpens iron' … you actually experience it at ORU."
The sense of family started early for Josh, soon after he arrived on campus. Following a 30-hour drive from Washington, Josh's family left, leaving him alone in a new place and a new city. But that first day, Josh says, he never actually felt alone.
"When I got to ORU," Josh said, "my chaplain wrote a note to every person on our floor. He wrote that he'd been praying for us all summer and that he was excited to see what God had in store for us. Knowing people were praying for me helped me be open. Now, I can talk to my classmates as their brother in Christ. Being around like-minded students, knowing that we follow the same God, that we have similar values, it's important to the sense of community on campus."
"Maybe my family isn't here, but my family in Christ … they're here. I'm surrounded by motivated, passionate people, by thousands of students who praise God."
Joshua Brennan
Growing Spiritually and Academically
The ORU community is a fast-growing community, one that's seen enrollment grow for fourteen consecutive years. And as enrollment grows, the ORU campus is growing too, with four new buildings to be added over the next three years. These additions, which include a new library and a new Media Arts Center, are adding to ORU's international reputation as an academic institution. As a university, ORU combines world-class academics with faith, and for Josh, that's been an important part of his college experience.
"I'm a digital marketing major," Josh said, "and I love diving into subjects I'm passionate about. I know people in business programs at other universities, and from what I've heard, I'm learning more about business than any of them. Along with that, I've been growing in my relationship with God, and that happens in the classroom too. Once before class, we prayed and worshiped for five minutes, and I thought that was a super cool thing. To see prayer and praise rooted in ORU, even in the classroom. Here, prayer is an important part of both learning and growing."
Before coming to ORU, Josh saw his future in the ministry. But he thought a ministry career was limiting and God couldn't use him in other ways. Josh thinks differently now. Looking to the future, Josh, a digital marketing major and theology minor, sees opportunity everywhere, both in business and in ministry.
"I had this view," Josh said, "that if I chose ministry, it was ministry only. But that's not the case because I can wear both hats … a business hat and a pastoral hat. I can get my business education, and in another season, I can transition from business into ministry. I definitely feel called and I know God can use me to build His kingdom even while I'm working in business."
Finding More Than a Home
When Josh left Washington, he says there were tears, but eight months later, ORU is now his second home. He's grown comfortable in Tulsa, and when he's off campus, returning to his dorm means "going home." But there's more to it than that, it's not just home; it's family too.
"Maybe my family isn't here," Josh said, "but my family in Christ … they're here. I'm surrounded by motivated, passionate people, by thousands of students who praise God. Part of finding family is the college experience … ping pong tournaments, pool tournaments, watch parties … there's a lot of fun events on campus. But it's also about my relationship with God and being in a place where people genuinely care about each other."
ABOUT ORAL ROBERTS UNIVERSITY
ORU is a Christian, Spirit-empowered, interdenominational university in Tulsa, Oklahoma, with over a decade of consecutive enrollment growth. Regionally accredited by the Higher Learning Commission, ORU offers over 150 majors, minors, concentrations, and pre-professional programs at the bachelor's level, ranging from business and engineering to nursing, ministry, and more. Under the leadership of President Dr. William Wilson, ORU is preparing students from all 50 states and 145 nations (from 2019 to 2023) to be whole leaders for the whole world.
The Wall Street Journal ranked ORU as the #4 university in the nation for student engagement. This ranking is based upon faculty interactions, collaborative learning, critical thinking, real-world applications of student learning, the extent to which classes challenge students, and whether students would recommend a university to others. Niche recognizes ORU as one of the most diverse colleges in America.
ORU has been ranked by U.S. News & World Report as:
#1 in Undergraduate Teaching
#2 in Most International Students
#3 in Best Value
#6 in Best College for Veterans
#7 in Best Regional Colleges in the West
For more information, visit www.oru.edu.