ORU's Dusty Carter: Addressing Veteran Mental Health Through Wilderness Therapy
Dusty Carter
Hometown: Pike, New Hampshire
Veteran | Area of Study: Biblical Literature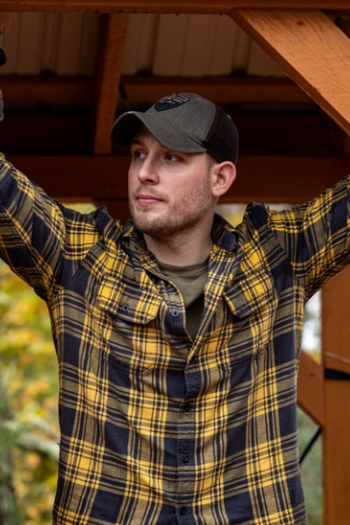 Dusty Carter knows all too well the struggles of post-traumatic stress disorder (PTSD). Instead of allowing the trauma he endured to define his future, Dusty made a life-changing decision. He launched his not-for-profit Warrior Spirit Therapies to help veterans with similar challenges and transferred to Oral Roberts University (ORU) as an online learner. Through his not-for-profit, he offers veterans support through wilderness therapy, community involvement, healing through scripture, and faith in Jesus Christ.
"Mental health is especially important for veterans," said Dusty. "In the military, you are told to suffer in silence and complete the mission. We can choose to push ourselves, but we can also choose to not suffer mentally. We have discovered ways to use the mountains, land, water, and above all the healing power of Jesus, to help veterans reach another level of wholeness."
"In the military, you are told to suffer in silence and complete the mission. We can choose to push ourselves, but we can also choose to not suffer mentally."
Dusty Carter
Choosing A Spirit-empowered Education
Before ORU, Dusty was studying psychology at another university. But Dusty realized something was missing—something he never had—a relationship with God. Dusty wanted a university where he could grow in knowledge and faith, so he transferred to ORU's online Biblical Literature program.
"I had no background in Christianity and never attended church," said Dusty. "I was the farthest from God that anyone could be, but I felt the need to be baptized and establish a relationship with God. Then, I felt the need to change my major. So, I talked with my pastor and my mentor who told me about ORU."
Dusty describes ORU's whole-person approach as unique compared to other universities. At ORU, leadership training incorporates Spirit-empowered growth, with a focus on the mind, body, and spirit, which Dusty describes as "multi-dimensional healing."
"Studying at a Spirit-empowered university is so important," said Dusty. "Not only is the Holy Spirit with me, but the whole-person focus on mind, body, and spirit is helping me become a better person. This isn't being taught at other universities."
ORU's Support for Veterans and Online Students
As a Gold Level Military-Friendly School, ORU's Veteran's Experience office helps veterans like Dusty navigate education benefits and ensure they have full access to information, assistance, and post-graduate guidance.
"As a Spirit-empowered university, ORU develops veterans to fulfill the mission of impacting the world," said ORU Director of Veterans Experience, Lt. Colonel Will Beck. "Taking what they have experienced in the military, ORU student veterans can expand their horizons to fulfill God's purpose in their lives. Discounted tuition rates, smooth use of VA education benefits, a nationally recognized faculty, and a Gold Level Military Friendly rating … it all adds up to the ideal place for student veterans to learn and grow.
Studying online from his home in Pike, New Hampshire, Dusty wants to expand his scriptural knowledge and use it to impact the world. Through his online learning experience, Dusty is growing in his relationship with God and becoming a better leader to serve the mental health needs of veterans.
"Being online has been great," said Dusty. "I live in a little town in the beautiful white mountains with very little Wi-Fi, but I'm still able to learn at the greatest university in the United States. ORU is helping me address mental health in a multi-dimensional way—mind, body, and spirit. I want veterans to know that there is one true healer, Jesus Christ, and without a foundation in Him, we can never truly have mental health."
ABOUT ORAL ROBERTS UNIVERSITY
ORU is a Christian, Spirit-empowered, interdenominational university in Tulsa, Oklahoma, with over a decade of consecutive enrollment growth. Regionally accredited by the Higher Learning Commission, ORU offers over 150 majors, minors, concentrations, and pre-professional programs at the bachelor's level, ranging from business and engineering to nursing, ministry, and more. Under the leadership of President Dr. William Wilson, ORU is preparing students from all 50 states and 150 nations (from 2019 to 2023) to be whole leaders for the whole world.
The Wall Street Journal ranked ORU as the #4 university in the nation for student engagement. This ranking is based upon faculty interactions, collaborative learning, critical thinking, real-world applications of student learning, the extent to which classes challenge students, and whether students would recommend a university to others. Niche recognizes ORU as one of the most diverse colleges in America.
ORU has been ranked by U.S. News & World Report as:
#1 in Undergraduate Teaching
#2 in Most International Students
#3 in Best Value
#6 in Best College for Veterans
#7 in Best Regional Colleges in the West
For more information, visit www.oru.edu.