Signing to Reach the World: How ORU's Xander Alexander Plans to Impact the Deaf Community
Cameron "Xander" Alexander
Hometown: Fort Worth, Texas
Area of Study: Ministry and Leadership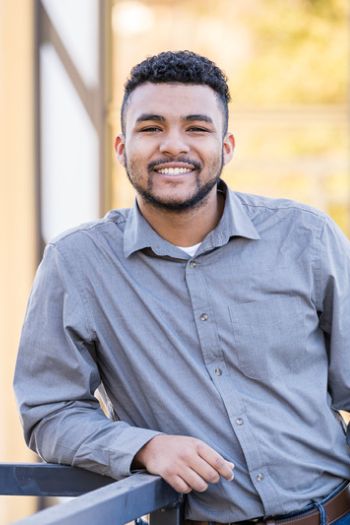 While in Costa Rica on a missions trip, ORU's Cameron "Xander" Alexander attended a church service where he encountered, for the first time, a deaf worshiper. A sign-language interpreter wasn't available, so this worshiper missed the opportunity—an opportunity shared by everyone else in attendance—to hear the message. This wasn't something Xander had ever thought about, but that day, he found himself asking the question: "When a person can't hear a sermon, what do they do?"
"I knew this had to be a problem," Xander said, "not just in Costa Rica but in America too. When I returned home, I looked up some statistics and found out that worldwide, a large percentage of deaf people don't know God's Word."
According to the Deaf Bible Society, 98% of deaf people around the globe have never been introduced to the Gospel. Wanting to be used by God, Xander purchased an American Sign Language (ASL) dictionary, immersed himself in the deaf community, and began to teach himself sign language. Today, Xander is a proficient signer, and when he talks about the deaf community, he can't help but speak with his hands.
"I recommend that people learn the basics of ASL," Xander said, "because it'll go a long way in connecting with people who are deaf or hard of hearing. I once met a homeless woman who was deaf, and when I signed, her eyes lit up. She was so happy to finally find a person who could actually speak her language."
"As Christians, we have two options. We either need to open up more deaf ears, or we need to meet the deaf where they are."
Xander Alexander
Prioritizing Education and Faith
Xander says his heart for ministry will someday lead him to sign for people who are deaf or hard of hearing. He sees a pressing need for more male signers and minority signers. Currently, Xander is majoring in ministry and leadership, but he chose ORU because it offered more than just ministry training.
"I wasn't looking for a Bible school," Xander said. "I didn't want to go to a college where I would only get ministry training. I wanted to take English and math and various academic courses. At ORU, while everything is viewed through the lens of Jesus, there is an emphasis on academics. As a University, ORU prioritizes education and faith."
As a globally recognized, Spirit-empowered university, ORU develops students through its unique "Whole Person" education, which focuses on mind, body, and spirit. Students come to ORU not to "stay" in their faith but to grow in their faith, and in describing the ORU community, Xander says growth is everywhere on campus.
"Some universities," Xander said, "are Christian in name only, but here, faith is significant. Students at ORU are living for Jesus. It's so much more than just wearing a cross necklace or going to church on Sundays. People here live out their Christian walk on a daily basis. There's so much intentionality on this campus from both the staff and the students. Everyone here makes Jesus a priority."
Committing to the Deaf Community
For Xander, helping the deaf will always be a priority in his life. As a signer, he wants to make an impact in the world, but he also wants to do more than that. Looking to the future, Xander has plans to adopt a deaf child, another step in his commitment to the deaf community. This commitment, Xander says, is something all Christians should be thinking about.
"As Christians," Xander said, "we have two options. We either need to open up more deaf ears, or we need to meet the deaf where they are. I believe in the power of healing, but if that doesn't happen, what do we do? What we can do is we connect with those who can't hear, and we do this by taking the time to learn a language they can understand."

ABOUT ORAL ROBERTS UNIVERSITY
ORU is a Christian, Spirit-empowered, interdenominational university in Tulsa, Oklahoma, with over a decade of consecutive enrollment growth. Regionally accredited by the Higher Learning Commission, ORU offers over 150 majors, minors, concentrations, and pre-professional programs at the bachelor's level, ranging from business and engineering to nursing, ministry, and more. Under the leadership of President Dr. William Wilson, ORU is preparing students from all 50 states and 145 nations (from 2019 to 2023) to be whole leaders for the whole world.
The Wall Street Journal ranked ORU as the #4 university in the nation for student engagement. This ranking is based upon faculty interactions, collaborative learning, critical thinking, real-world applications of student learning, the extent to which classes challenge students, and whether students would recommend a university to others. Niche recognizes ORU as one of the most diverse colleges in America.
ORU has been ranked by U.S. News & World Report as:
#1 in Undergraduate Teaching
#2 in Most International Students
#3 in Best Value
#6 in Best College for Veterans
#7 in Best Regional Colleges in the West
For more information, visit www.oru.edu.