Counseling the Vulnerable: How ORU's Amiyah Zarazua Plans to Help a Generation of Students
Amiyah Zarazua
Hometown: Fort Lauderdale, Florida
Area of Study: Psychology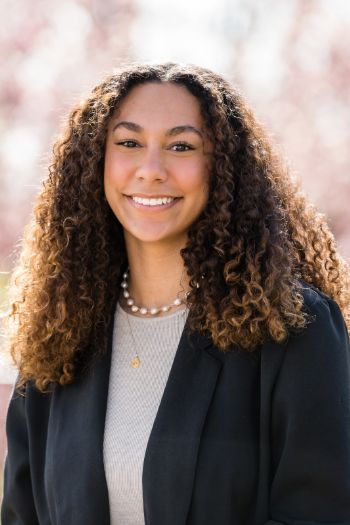 Most weeks, you'll find ORU sophomore Amiyah Zarazua at the Tulsa Hills Youth Ranch, a place that serves and mentors traumatized youth. Amiyah started volunteering there as a freshman and hasn't stopped, fueled by her love for children and a passion for helping those in need. As a mentor, Amiyah says her goal is to offer the "right attention" in a world where the most vulnerable often receive no attention.
"A lot of these kids aren't being loved," Amiyah said. "They need attention. They need comfort. They need a place to be vulnerable, to be seen, to be heard. Maybe their parents aren't around, or they don't have grandparents. In those instances, they're going to seek attention from wherever they can get it."
As a psychology major, Amiyah hopes to someday counsel students who are struggling. Amiyah's own struggles as a high school student left her searching for an identity and personal value. It was a camp counselor who stepped in and provided guidance, helping Amiyah become the person she is today.
"A lot of these kids aren't being loved. They need attention. They need comfort. They need a place to be vulnerable, to be seen, to be heard."
Amiyah Zarazua
"I had difficulty finding my value in the Lord," Amiyah said, "and I went to camp not really expecting the Lord to move. But I chose to be transparent because I wanted to change, and when I told my story, my counselor related to what I was going through. Her story was literally a play-by-play of mine, and that experience helped me make a 180-degree turn in my life."
Refusing to Fall Off the Deep End
Raised in Fort Lauderdale, Amiyah's initial list of colleges didn't include ORU. Instead, she was considering a public university in Florida, a place where she could "literally fall off the deep end." That changed when Amiyah started searching for a place to grow … a place that offered not only an academic education but a spiritual education too.
"In thinking about college," Amiyah said, "I had to be real with the Lord. I told myself, 'Lord, I'm going to trust You because I know ORU will help me grow.' I knew I was going to develop on this campus. Coming here was so important to keeping my relationship with God."
Since coming to ORU, the growth Amiyah sought is exactly what she's experienced. Part of this has been spiritual and in her personal relationship with God. But she's also grown through the diversity of ORU's campus, which Niche (2023) recognized as the most diverse university in Oklahoma.
"The diversity on campus is really hard to miss," Amiyah said, "and for me, it was another solidifier in choosing ORU. And there's diversity in our views too … we're unified as believers, but at the same time, everyone's spiritual growth is different. Coming to ORU has given me focus, and it's solidified what I believe. Before I came here, I was just going through the motions. I didn't have a personal relationship with the Lord. It's not enough to just go to church on Sunday. Instead, you have to choose what you want to do. You have to choose what you want to believe."
Bringing Love to Those Who Need It
Recently, Amiyah helped launch "Azar," ORU's Christian caregiving and counseling club, named after the Hebrew word for "to help or to be of support." Azar is geared toward counseling majors, with a focus on integrating faith into the practice of helping others. Faith, according to Amiyah, can be integrated everywhere—not just in church—and looking ahead to her career, Amiyah plans to integrate love into the way she helps and supports children.
"My goal is to be a school psychologist," Amiyah said, "because I want to show love to children. Girls especially … they need to know that there's so much more to them than their face value. I definitely feel called to work in the public schools, to be at a place where I can show struggling students—students who don't know what love is—that love is kind, love is patient, and love is forgiving."

ABOUT ORAL ROBERTS UNIVERSITY
ORU is a Christian, Spirit-empowered, interdenominational university in Tulsa, Oklahoma, with over a decade of consecutive enrollment growth. Regionally accredited by the Higher Learning Commission, ORU offers over 150 majors, minors, concentrations, and pre-professional programs at the bachelor's level, ranging from business and engineering to nursing, ministry, and more. Under the leadership of President Dr. William Wilson, ORU is preparing students from all 50 states and 145 nations (from 2019 to 2023) to be whole leaders for the whole world.
The Wall Street Journal ranked ORU as the #4 university in the nation for student engagement. This ranking is based upon faculty interactions, collaborative learning, critical thinking, real-world applications of student learning, the extent to which classes challenge students, and whether students would recommend a university to others. Niche recognizes ORU as one of the most diverse colleges in America.
ORU has been ranked by U.S. News & World Report as:
#1 in Undergraduate Teaching
#2 in Most International Students
#3 in Best Value
#6 in Best College for Veterans
#7 in Best Regional Colleges in the West
For more information, visit www.oru.edu.